HHS Senior Paxton Zeis chooses Temple University for her theater future
By Lydia Gould
For most, theatre is a hobby; for Paxton Zeis, it's her biggest passion.
Zeis, a senior at Hershey High School, has been participating in the theatre productions since her sophomore year. Now, Zeis is preparing to take the next step towards her future. She has recently made the decision to pursue performing arts at Temple University this fall.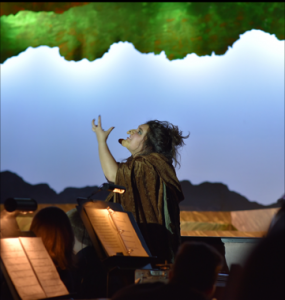 The decision to major in theatre was a recent decision for Zeis. She said that her family had a big impact on her decision.
"Seeing [my family] encourage me to do something so abstract, [it] encouraged me to pursue theatre," said Zeis.
While her family was very supportive, Zeis ultimately said that  her love for theatre is what made her want to continue it throughout her college years.
"[Theatre] was just something that I loved," said Zeis. "If you've ever been completely in love with something, that's what it was for me."
After she had decided she wanted to go to school for theatre, the application and audition process began. According to Zeis, she applied to 10 schools and auditioned for 12. Many of her auditions took her outside Pennsylvania and into Manhattan.
"In New York, I auditioned for five schools in one day," said Zeis. "It was interesting to see how I acted when in front of different people who were deciding the rest of my future."
While the auditions were as Zeis said, "ridiculous," since they consisted of lots of talent and pressure, Zeis ultimately was successful. She was accepted into several of her top choices including Muhlenberg, Temple, The New School, and Rutgers. Ultimately Zeis chose Temple because it was financially reasonable, and it's among the top 30 ranked performing arts programs in the country, according to College Factual.
Zeis is hoping to eventually major in either acting or performing arts, but she is going into her freshman year undecided. Whatever she chooses, she says that she is very excited to begin the next chapter of her life.
"I'm excited for more performance based classes," Zeis said. "Rather than reading a textbook, I'll be able to do what I really love."
While she's excited for more performance opportunities, there are a few things she is nervous for.
"I'm nervous about time management," Zeis said, "and about being able to juggle everything."
Overall, Zeis is ecstatic to be able to pursue theatre in college. She hopes to eventually obtain a masters in performing arts from a "bigger name" school. If she can't, Zeis will start auditioning for performance opportunities following her college education.
Even though Zeis is excited to move onto the next chapter of her life, she couldn't be more grateful for the opportunities Hershey High School has given her.
"High school has taught me that you can find your passions in the most seemingly insignificant places," Zeis said.