Hershey Choirs hit high note at Roxbury Invitational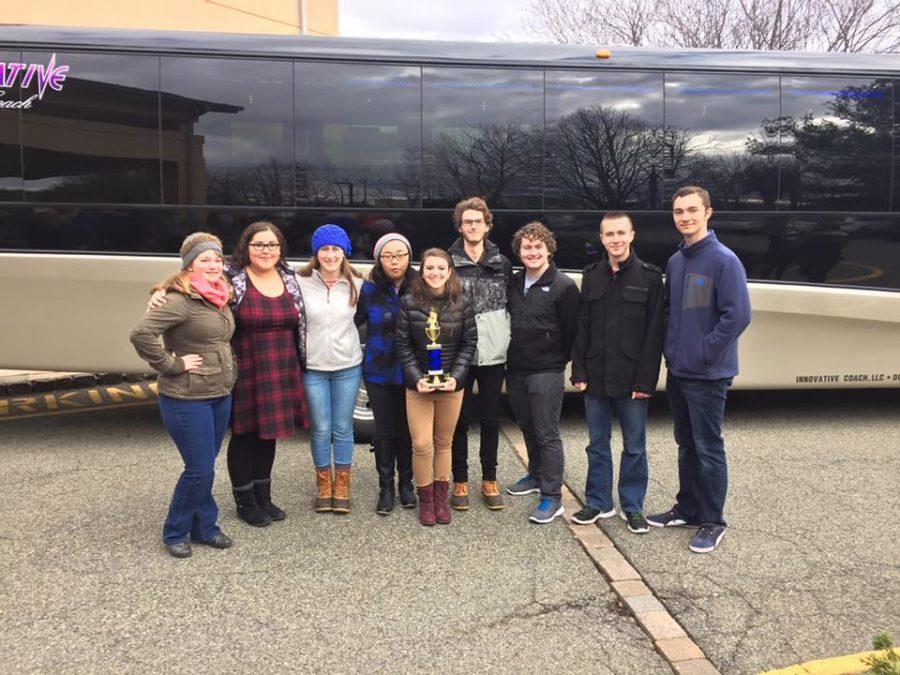 By: Cara McEarlean
After weeks of practicing, Hershey's choirs struck the perfect chord.
On March 20th, three of Hershey High School's choir ensembles attended Roxbury High School Invitational in Roxbury, New Jersey. The successful weekend resulted in a first place "Grand Champion" award for the auditioned choir, Cantabile; as well as a gold rating for the women's choir, In Voce; and a silver rating for the jazz ensemble, After Eight. This is the second time in three years that Cantabile has been named the Grand Champion of the festival.
An individual achievement award was also presented to senior Ben Murray for his French horn solo in Cantabile's "The Journey." In Voce received an individual outstanding choral performance award for their rendition of "Stars I Shall Find."
In addition, Hershey also sent three students to participate in the solo division. Seniors Syrena Torres, Hannah Paymer, and Grace Gavazzi competed, performing "Voi Che Sapete" by Mozart, "This Place is Mine" from Phantom, and "Non Posso Disperar" by Sergio de Luca, respectively. Torres placed second in the Classical Solo category, allowing her to sing in the evening showcase alongside other top performers.
The invitational consists of four divisions: concert choirs, jazz choirs, show choirs, and solos. 22 choirs from the mid-atlantic region competed, showcasing their talents for a panel of adjudicators. The adjudication panel consisted of eight music professionals, including college professors, conductors, vocalists, and choral directors. After their performance, each choir would meet with a adjudicator and receive constructive criticism on their technique.
Roxbury Choir Invitational is one of the largest high school choir invitationals in the country, hosting around 20 selected choirs every year. This year marked the 26th annual competition at Roxbury High School.
The three Hershey choirs, all led by Mr. Joseph Farrell, have been long time participants of Roxbury Choir Invitational. This year Cantabile wowed the judges with three pieces: Cantate Domino by Hassler, The Journey by Greg Jasperse, and You Better Mind by Stacey Gibbs. In Voce sang four: I Will Lift My Voice and Sing! by Victor C. Johnson, Hebe by Ernest Chausson and Mari Valverde, Stars I Shall Find by Victor C. Johnson, and Didn't My Lord Deliver Daniel by Ken Berg. After Eight performed the jazz-infused selection of Come Fly With Me arranged by Mac Huff, Me and Julio Down by the Schoolyard arranged by Darmon Meader, and Begin the Beguine arranged by Greg Jasperse.