New Athletic Director Joins Hershey High School
By: Shyanne Gaston
From a professional football player to a collegiate coach, Hershey High School welcomes their new athletic director.
Scott Govern joined Derry Township School District in December 2015. He's a highly qualified athletic director with a long career on and off the field.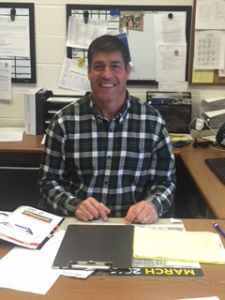 Govern graduated from Lock Haven University with a degree in Social Work. After that he received a Master's Degree from Western Maryland College with a degree in Athletic Administration.
Prior to arriving at DTSD, Govern was the athletic director at Spring Grove Area School District for three years. Govern was also the athletic director for twelve years at Boiling Springs School District.
As an athletic director, there are a multitude of responsibilities. Some of Govern's tasks include scheduling all the athletic events, evaluating coaches, and managing both the high school and middle school athletic programs.
Although being an athletic director is a lot of work, Govern tackles the job happily and for one reason: the student athletes.
Govern said, " I want our kids to feel like being involved in our athletic program is special to them."
Govern's influence stems from his high school Athletic Director. His Athletic Director is what he says is " the foulest man" and that he promised himself that he would not be an Athletic Director like him.
Govern has new ideas for Hershey's athletic programs. One idea is that he wants to change what he says is the "Hershey Culture". Instead of having sports be pitted against each other, Govern wants to see student athletes support other student athletes  Another idea he has is to have student athletes accomplishments' be known by more than just their team.
Govern said, "When they (the student athlete) do something amazing, I want the public to know."
Within his five months of being the athletic director, Govern has put many of his ideas into effect. At the end of the school day student athlete(s) accolades are announced over the intercom by Kathy Bijold. Posters were hung in the gymnasium during the winter sports season of participating students names and numbers in wrestling, girls basketball, and boys basketball.
A column, called Breaking News, was added to the athletic director's website to show student athlete's accomplishments. Govern's tenacity to provide opportunities for student athletes stems from his own childhood.
Athletic directors have been going in and out of Hershey within the last couple years. Govern said, " I'm not going anywhere. I'm very happy and content here, and this is where I want to stay."