Hershey Boys' Lacrosse falls 11-4 to Palmyra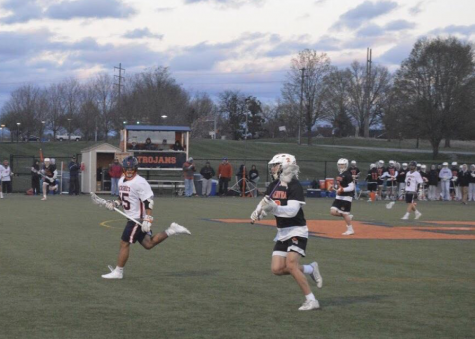 Hershey Boys' Lacrosse fell to Palmyra 11-4 on Monday, April 15, 2019.
Palmyra jumped out to an early 3-0 lead with goals from Kyle Wasilewski, Grant Haus, and Seth Robertson. Stunned, Hershey was unable to respond until the second quarter.
Just three minutes in the second quarter, Hershey's Colin Kondracki scored to get the Trojans on the board. Minutes later, Hershey's Mark Sickler netted a goal to put the Trojans within one.
The Cougars added one more with 2:44 left in the second quarter with a goal coming from T.J. Caton. After a strong first half, Palmyra led 4-2.
Both the Cougars and the Trojans entered the second half with strong defense, but three minutes into the third quarter, Palmyra's Wasilewski scored once again.
With seven minutes left to play in the third quarter, junior Charlie Dye scored the third goal of the night attempting to keep the Trojans in the game.
However, minutes later, Wasilewski struck again completing the hattrick. Heading into the fourth quarter, the Trojans trailed 6-3.
Palmyra netted two more goals early in the fourth quarter both from Grant Haus.
Although trailing by four goals, The Trojans' offense remained determined throughout the fourth quarter. With ten minutes left to play, sophomore, Trevor Bradshaw scored in a late attempt to keep Hershey in the game.
However, the comeback attempt was in vain.  Palmyra added three more goals in the end of the fourth quarter, coming from Grant Haus, Seth Robertson, and Kyle Wasilewski.  Palmyra's offense was just too much for the Trojans as they put up 11 goals.
The Trojans' record now stands at 5-4, and their next game is Thursday, April 16, 2019 against Conestoga Valley.