Shavonnia Corbin-Johnson Falls Short in Run for PA-10th Congressional Seat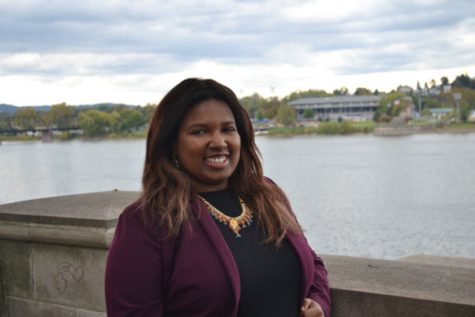 She may have fallen short, but she ran on principle.
On May 15, 2018, Pennsylvania had its mid-term primary to elect one of their senators and each districts' congressman/woman. The Democratic Party has four candidates running to be the party's candidate.  Shavonnia Corbin-Johnson was one of those four candidates; however, George Scott won the primary.
The primary election is used by Democrats and Republicans to narrow down their candidate field and present one candidate to represent them in the November election. Derry Township resides in Pennsylvania's newly formed 10th Congressional District (formerly the PA-15th).
Many times, voters feel that the candidates running may not be the right choice, simply because they haven't spent enough time in their congressional district to gain an appreciation for it. For  Corbin-Johnson, this is not the case. She is a native of York, and spent many of her early years growing up in the foster-care system before her grandparents were awarded full custody of her.
Corbin-Johnson attended Georgetown University, and during her time there she became a full time intern for Senator Bob Casey (D). Her time working for Senator Casey resulted in a recommendation for a position at the White House, where should would become an advisor and assistant to the Director of the Office of Management and Budget (OMB) under President Obama.
When describing what caused her to run for public office, she said "My grandfather was a World War II veteran and my grandmother was a pastor, and so I always knew that I had some sort of service gene in me."
But her dissatisfaction with current Representative Scott Perry was another major factor in her decision to run.
She feels that Congressman Perry doesn't share similar enough priorities and values to adequately represent the PA-10th. "That's why I decided to throw my hat into the race, to make sure that we have a representative who wants to represent our values on Capitol Hill and not that of the Koch Brother and the NRA" said Johnson.
Having experienced foster care first hand, Corbin-Johnson noted that there many issues that plague the system. "Judges are pretty much put on the line when deciding who has custody of a person, a person that they don't really know, the families they are giving the person to, and they don't know a lot of the background stories."
Corbin-Johnson said that an issue that arrives out of this current set up with the judges is that "There's many people who are awarded to their family members, rather than the foster family they are living with, and their family members don't have their best interest at heart," said Corbin-Johnson, "We need to address the system in general, and it hasn't been addressed yet, and there has been really no representative or senator who has seen a need to look at the system and reform it. And I am one person who will definitely do that."
The FEC requires that a candidate receive 1,000 signatures before being eligible to run, and this first step can cause many candidates to crumble. Corbin-Johnson credits her success in receiving the required 1,000 signatures to her campaign volunteers and early name recognition.
"My name has been out since October, so thankfully people knew who I was […] but it still took about three weeks to get a thousand signatures" said Corbin-Johnson.
Like any successful campaign, a network of staffers and volunteers are required to make the campaign function efficiently. "My core staff is about eight people, out of the eight maybe five are paid, and the other three are volunteers. And then we have a second layer of staffers who work part-time rather than full time…" said Corbin-Johnson.  
Campaign finances are a major part of sustaining any campaign through November. Campaign contributions are used to hire more staffers full-time, spread the message of the campaign, and support the administrative side of running for Congress. These congressional campaigns do not come cheap either, according to a 2012 study done by Maplight "House members, on average, each raised $1,689,580, an average of $2315 every day during the 2012 cycle."
When asked about how they support their campaign financially, Cobrin-Johnson said "We aren't taking any corporate PAC money, everything is small dollar donations, person to person contact. It's even more work, but so far its proven beneficial."
As the only woman and African-American running in the PA-10th, the voting demographic may be very different compared to others in the primary race against her. Although she is running for this primary from a unique background than the other candidates, she prefers to view it in the positive.
On her unique position, Corbin-Johnson said that although many may view it as a disadvantage, she is using her position for the better. Currently the PA-10th has a American-American population of less than 10%. "I am using it as an advantage because I have the ability to reach out to different minority groups that have often been overlooked," said Corbin-Johnson.
Corbin-Johnson's congressional run can also be seen as its own battle against lingering sexism in politics. According to Corbin-Johnson, "I get asked often 'Why don't you do something more womanly?' and its kind of saying that running for office is not something that a woman should do. But I say 'This is womanly.'"
Corbin-Johnson also notes that she gets asked frequent questions about her why she is not in a committed relationship, since she is currently not married, and she replies, "You know I am committed, I'm committed to the people of York, Cumberland, and Dauphin counties."
Corbin-Johnson feels that many politicians fail to 'show face' in their districts leaving the voices of many constituents go unheard, but Corbin-Johnson feels that she is the candidate that's going to change that.
Instead of changing the way she works, she plans to continue what she has always been doing. "Even when I was working in D.C. for Senator Casey and President Obama, I was still involved in my community back here. I still attended church services back here, you would see me at Central York High School watching the football games […] It's the same way as a representative, it's just that now, I will have the ability to be even more involved, because that's how I feel a representative should be."
Corbin-Johnson spent several years working for President Obama at the Office of Management and Budget (OMB). During her time at the OMB she served as the first stop of information between the Secretary of the OMB and President Obama.
She described the extensive amount of information that passed through her which ranged from education to the administration's strategy against ISIS. "Any sort of topic or circumstance that was happening on a national level had find its way through me before being addressed by the Secretary […] It was an honor, something that I never ever in my life thought I would get a chance to do."
Social issues play a major role in many voters decision to cast their ballot for a candidate. These issues range from gay marriage to gun control.
Corbin-Johnson takes a strong stance on gun-control reform, she feels that there needs to be more national legislation to back gun-control. Specifically she said, "I plan on working to create legislation and also working with state representatives to make sure that they have legislation to provide adequate gun reform."
Corbin-Johnson also stressed the need for there to be more discussions about basic gun safety training amongst Americans, as well as the need to tighten up background checks for people wanting to purchase a firearm.
Like many Democrats, Corbin-Johnson stands with the side of pro-choice on abortion, "I am in favor of a woman's right to chose, I have always been […] I believe that a woman's choice should be between her, her family, and her medical provider."
Corbin-Johnson also takes pride in her relationship with the LGBTQ+ community. "I'm an advocate and ally of the LGBT community. For me, it's not enough to only want to offer better representation for the LGBTIA+ community. I want to bring a contemporary perspective to Capitol Hill where there are so many outdated notions…"
The Pennsylvania primaries were Tuesday, May 15th.  Corbin-Johnson's campaign website can be found at: https://corbinjohnson4congress.com/