Dr. Eric Ding falls short in run for PA-10th Congressional Seat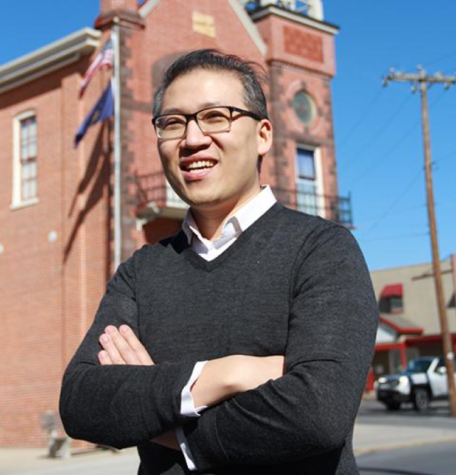 The Democratic Party has four candidates for the spot to be the party's candidate. Dr. Eric Ding placed third among those four candidates.
Many voters worry that the candidates running to represent them may not be the most relatable person. Although Eric Ding is currently a doctor, he feels that he is perhaps one of the most relatable candidates.
Ding spent his whole life growing up in the Pennsylvania school system. When Ding was a very young child, his family immigrated here from China. He described what it was like growing up for his family. "We lived off Goodwill and  Salvation Army… we lived a poverty life, and we didn't have money. We came to America with fifty dollars."
Now, he is running for Congress after earning two doctorates from the Harvard School of Public Health.
When asked what inspired Ding to run for congress, he said that "there are so many things going wrong in our country today, but especially health care […] Health care is one of the number one issue on everyone's mind."
If Ding gets elected, he wants to help eliminate the worry of choosing between "drugs, doctors, and food" for a sick family member, since he finds that our healthcare system is so expensive that most uninsured and some insured families have to choose between these essentials.
Ding feels that many Americans don't agree with the health care system because of the way it is packaged. Ding said that although many disagree with Obamacare, many Americans do agree with its "individual provisions."
"For example," said Ding, "Should you be denied insurance based upon a pre-existing  condition? Most people, 89 percent say 'No you should not be denied care.'" The provision of not being denied care based upon a pre-existing condition is a cornerstone of the Affordable Care Act (Obamacare), and Ding worries that too many people are focusing on the name and not what it actually does for people.
This area of American politics is where Ding feels he is better suited to represent Pennsylvanians. "There are many things that are going wrong, and I feel like I can lend a really strong voice in restoring science, fight Trump with facts, restore accountability and help solve the healthcare crisis."
Ding feels that unlike most of the other democratic candidates who have served in either the military or White House have only done that: serve. "Everyone's served the country, but I want to highlight to people that I have lead initiatives, I've lead the campaigns."
Ding is in a unique position, as an epidemiologist he has spent years in the public health sector, however, this may cause some voters to wonder if he possesses the experience to be effective in politics.
He hopes that voters view his work in public health and as an epidemiologist as a way to study public health issues from a different point of view.  Ding describes epidemiology not as a laboratory science, but a science that studies "who is being neglected in the system" and how he can help those neglected people.  
The backbone of any campaign comes from its many volunteers. Ding said that currently his campaign staff is "half volunteer, half paid." According to Ding, most of his volunteer staff is comprised of college and high school students from Cumberland County.
On whether Ding has any future aspiration, he prefers to take things one step at a time. "I want to represent the place where I grew up," and he feels that he needs to focus on the fighting for Pennsylvanians at home before moving on.
During his tenure, Ding wants to focus on supporting bills that don't help lobbyists, but actually work and help the people of the PA-10th. He says that often-times congressmen/women are getting bills handed to them that were drawn up by lobbyists and partisan think tanks.
He feels that "if you don't have the accument, the nose, for sniffing out 'is this going to work' […] unless you have policy and evidence based experience reading what these proposals are […] I think you can't be an effective congressman if you don't have that kind of sense."
Since the 2016 election, attack ads have been used continuously by other campaigns to discredit their campaign. Most recently Paul Mango released an attack ad against Scott Wagner that many people called a 'disgrace' and 'unethical' move by Mango.  
When asked a hypothetical about Congressman Scott Perry releasing an attack ad on one of the candidates, Ding said "…that's the nature of politics, you can't run without being attacked in someway, and I'm glad the primaries are keeping it family friendly and clean […] but I'm ready. I'm not someone who's ever backed down from fights."
When voters head to the polls, many cast their votes for candidate that they agree with on social issues such as abortion, gay marriage, and gun control.
If Ding were to win the election, he would like to dedicate his time to solving the gun show loophole. Ding expressed the need for a need to impose longer waiting times on buying a gun. Currently, at a gunshow, there is no waiting time to purchase a firearm. Ding also feels that we need to restrict high velocity weapons due to, what he views, it not being necessary for hunting and self defense.
On social issues, Ding stated his pro-choice stance on abortion. Ding feels that abortion is often time the result of a "series of very unfortunate things that could have been prevented."
Ding feels that a major key to reducing the need for abortions is the need to have a proper sex-education about contraceptives and other safe-sex measures, and move away from abstinence only education. "Abstinence only education has shown to actually increase STD rates" said Ding. "We should make it so it almost does not happen […] and along the way we should help women get contraception coverage."
The Pennsylvania primary was Tuesday May 15th.  George Scott claimed a narrow victory.