Political Shift in Pennsylvania Elections
By: Omer Qureshi
Millions of Pennsylvanians' lives were influenced by several momentous decisions on the 3rd.
Pennsylvania was among one of the states to hold state and local elections on November 3rd, 2015. This election cycle marks several demographic shifts in the political landscape of Pennsylvania. At the state level, three Supreme Court seats were up for grabs, with Democrats seizing them all. At the local level, Republicans were met with success and were elected into positions such as City Council and Township Supervisor. This election has resulted in many radical changes, and the implications will soon be seen.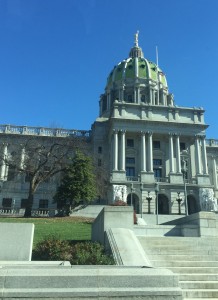 Locally, Republican Susan Cort defeated incumbent Democrat Sandy Ballard to become Derry Township Supervisor.
Among her goals as Supervisor, Cort said in an interview, "[I] aim to expand and revitalize the downtown Hershey area and create a safe environment for children." Cort edged out Ballard by a margin of less than 50 votes.
Hershey High School junior Natalie Norman-Kehe volunteered to campaign for Ballard on election day.
Norman-Kehe said, "It was disappointing that Ballard was so close to victory, and I feel that if more people voted locally she would have won."
Democrats David N. Wecht, Kevin M. Dougherty, and Christine Donohue defeated Republicans Judith Olson, Michael A. George, and Anne Covey as well as Independent Paul Panetino for three vacant Supreme Court seats. This election places Democrats in a 5-2 advantage on the State Supreme Court.
Democrats also garnered a single seat in both the Pennsylvania Commonwealth and Superior Court. The Democrats current advantage will give the party a large influence on the future of the state.
In 2020, the Supreme Court will decide whether Pennsylvania's redistricting is fair and competitive, and could change potential gerrymandering within the state. The court could also make rulings on issues such as healthcare, women's reproductive rights, and the minimum wage within Pennsylvania.
According to the United States Census Bureau, Dauphin County has a population of 270,937, but only 37,472 eligible voters actually voted on election day. Lower voter turnout has been on the rise, with the Washington Post finding that the 2014 midterm election reached a low that had not been seen since 1942.
Marisa Balanda, a junior at Hershey High School, volunteered to assist at the polls on election day.
Balanda said, "It was really disappointing to see the low turnout on election day, since local elections affect us most directly."
The ongoing politics of the state will continue to change as demographics shift,
"One ballot can change everything," said Balanda "people need to continue to vote."