Broadcaster Begins Transformation to Digital First Publication
By: Hannah Gundermann
Some wonder if the age of the newspaper is over.
Beginning in fall 2015 Hershey High School's iconic newspaper, The Broadcaster, will be going through a huge transformation. The Broadcaster is moving online. The staff of The Broadcaster hopes to reduce their costs, create timelier news, and allow the students to maximize their writing potential.
The newspaper will begin to explore online publishing this year while the print edition will continue for the 2015-16 school year. Next year the print edition will be eliminated and become a glossy magazine.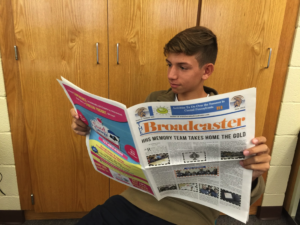 At the start of the school year Robert Sterner, Journalism II teacher at HHS, began to guide his students on the path he sees as the future of The Broadcaster.
Not just Sterner was responsible for the alteration, but he was definitely one of the advocates. It was a change that Sterner was ready to make when taking over more of the journalism department.
"It seemed like an opportunity," said Sterner. He really wanted to allow his students get a more realistic experience of the journalism world. This will help the students because the current software was quite outdated.
Damian Gessel, Journalism I teacher at HHS, worked as a journalist before becoming a teacher. He published both online and in print. This will bring a more realistic element to the students by publishing in both of these ways. Gessel said, "This brings it up to date, (into) the twenty-first century."
Another issue with the current version of the newspaper is the frequency. As of now students have not been writing as much as they will be. Instead of students writing an article in six or eight weeks, they will be writing an article in about two weeks. They will also have the opportunity to write articles that are more timely.
"Students will write more and more often," said Sterner.
Gessel and Sterner both agree that Journalism II and III students waste a lot of their time doing layouts. They feel as though since it is an English course, students need to be writing as much as they can.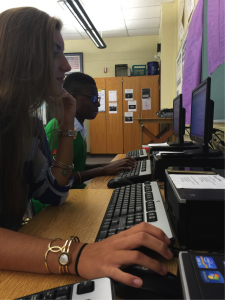 Journalism II students, Elma Abdic and Brandon Hill, work on their online articles during class on Monday, September 21. As the articles are finished, they will be published on The Broadcaster website.
Sophomore, Andrew Sullivan, shared that he wasn't really aware of how to purchase the current paper. He would typically just get the copy from a friend or teacher. The change to online articles will allow students to have a reliable constant flow of news.
"Since it will be easier for me to access, I'll be more likely to read it," said Sullivan.
Not everyone agrees. Senior Kate Zurlo, who is now in Journalism III at HHS, doesn't think students will be as inclined to read the articles. Sterner hopes to resolve this concern by using Twitter and other methods to advertise.
Another benefit of changing to mainly online is the ability to publish more photos, videos, and audio. This will allow students to explore more types of journalism other than just writing.
Sterner hopes that eventually there will be a Journalism IV class. This class would focus a lot on these contemporary forms of journalism.
"We will be using funding more efficiently and for more educational value," said Sterner.
Zurlo also thinks that this is an advantage of switching the style of The Broadcaster. As of now, a lot of money is wasted by printing unpurchased papers.
Switching to mainly digital also allows the journalism department to collect data on what people are reading. "Students will see how their works impact people by tracking the number of readers," said Sterner. This lets the students cater their topics to the interests of readers and see directly how they're impacting their peers.
The Broadcaster department recognizes that there is something that readers enjoy about a print version of articles. To appeal to all readers, there will be a magazine published twice a year.
"We will have a magazine that will have the best of the best," said Sterner. The top 5-10% of articles will be published in this magazine.
"I think there is something authentic about a concrete newspaper," said Zurlo.
Sterner and Gessel agree. Both journalism teachers say this is why the print future of the Broadcaster is a magazine that is as close to professional quality as possible.