Organization, Planners, and Drive
HHS' sophomore Lola Berra succeeds through determination and work ethic
Musical. Dance. Minithon. Honors chem, english, and world history. Precalc. Human anatomy. Volunteering. Tutoring. And a social life. Sounds like quite a lot for a single student to take on, especially under modern day levels of stress.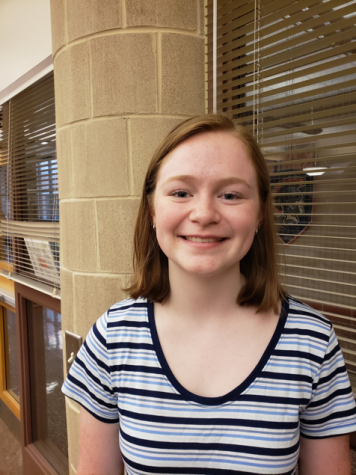 Hershey High School sophomore Lola Berra manages to do it all. She participates in these activities with determination and an impressive work ethic; though, no one could tell how much she does just from seeing her.
Berra is in all honors classes and several extracurriculars including the musical and dance classes.
Berra said, "I like [the] Musical because of the family it makes and dance because of all the great memories I have with all my friends in it."
Berra has been in HHS theater's musical both years of her high school career. In Peter Pan, she was in the lost boy ensemble. In Anything Goes, she was a featured dancer and part of the passenger ensemble.
As for dance, Berra takes tap, jazz, theater, ballet, and contemporary classes.
Regarding both of them, Berra said, "I take about five hours of dance a week. Musical can take 2 hours at the beginning to up to 5-6 hours a day when you are scheduled to show up." Requirements such as those are enough to shake even a model student. However, Berra faces this heavy workload with a smile on her face, according to friend and fellow sophomore Benji Keeler.
Keeler went on to say just how much of a hard worker Berra is. Keeler said, "She's very determined to do something once she's got her mind set on it, and you can count on her to get done whatever she says she will."
So how exactly does Berra manage to get done what she does? Berra said, "I have to schedule my time properly in order to participate in my activities and still get homework done or do fun things."
Organization is one big factor in her plans. In fact, Berra said that anyone struggling with procrastination may benefit from using a planner. Berra said, "Planners are helpful for me and give incentive to get things done."
Isabella White, another of Berra's friends and classmates, said, "Lola [is] the voice of reason." White considers Berra to be a very responsible and reliable person to get advice from.
With the year coming to an end, Berra is looking forward to taking AP Psychology next year. Berra said she wants to work in the psychology field after graduating, so the class is of particular interest to her.
Though her next year of high school is filled with more interesting opportunities, it won't be any easier than her sophomore year. In addition to AP Psychology, Berra will be taking AP US history, AP Calculus BC, Cantabile, and French V.
No matter what challenge Berra decides to face, Keeler said he believes she will be able to overcome it.