Then & Now- Best Friends
Hang on for a minute...we're trying to find some more stories you might like.
Often we have that one person we couldn't live without. The person we can count on for everything. Our best friend. Students at Hershey High School share stories of their best friends from their childhood, the friends that have continued to be in their life since they were young.  
Then and Now with Kate Clark and Clare Canavan
Clare Canavan and Kate Clark, juniors, have been friends since Canavan moved to Hershey when they were only six years old.
"We have been cheering together since second grade and are always together. Even some of our friends calls us by each other's names," said Canavan.
The two were smiling for a photo that their moms wanted before they went to cheer pictures together in third grade. Canavan and Clark have been cheering together since they first met and both were captains together in middle school.
"It has always been our thing," said Clark.
The two laughed as they reminisce on the time Clark's mom told them they wouldn't like camping, so she put up a tent in their basement.
"We wanted to go camping but her mom said we wouldn't like that, so we made a tent in her basement, and camped down there," said Canavan with a laugh.
Ever since the two met when they were six years old, they have been the closest friends. Canavan and Clark continue to cheer together in high school and do everything together. Recently the two went to California to visit colleges with both of their moms.
Then & Now with Alec Angello and Sean Rowland
Alec Angello and Sean Rowland are freshmen at Hershey High School. They have been friends since birth and have continued to grow up together. The boys were seven when they smiled for a photo before school at their bus stop with their fellow friend Jack Joyner, freshman.
"I'm just grateful that I have him as my friend and it's cool that we have been friends for awhile," said Angello.
Rowland and Angello have been neighbors since they were babies and have always hung out together throughout their lives.
"I'm glad that we have been such good friends from when we were super young and still continue to be," said Rowland.
The two hang out all the time and love to spend time together doing different things. They go on vacations together frequently with their families because they are also family friends.
"My favorite memory is when we went to Deep Creek, Maryland for the first time with all of our other friends," said Rowland.
The two said that their funniest moment together was when the two of them jumped on their snow fort and completely fell through it.
Then and Now with Taylor Yahn and Victoria Corado
Seniors Taylor Yahn and Victoria Corado have been friends for 17 years and continue to hang out together today. Their friendship all started when both of their moms, who were best friends, realized they were having baby girls the same age.
"We have honestly been friends my entire life," said Corado.
Yahn and Corado shared many memories together, one being the time they went to the Cocoa Bean football game at the Hershey Stadium when they were in second grade.
"It makes me content to look at because it makes me reminisce on my childhood and all the great memories that I have shared with Victoria," said Yahn.
Yahn and Corado both reminisced about the time they were supposed to dress as glamorous Hannah Montana and Miley Cyrus, but Yahn decided last minute to dress up as a dead Hannah Montana. While Yahn was a dead Hannah Montana, without knowing, Corado stayed dress up as a very living, glamorous Miley Cyrus.
"It wasn't until later that night I decided to scratch the glam and decided to go as a dead Hannah Montana while Victoria was still very well living Miley Cyrus," laughed Yahn.
Then and Now with Emily Liesch and Maliyah Paynter
Maliyah Paynter and Emily Liesch, seniors, have been friends for eleven years and have done everything together. Liesch went with Paynter to the orthodontist to get her braces put on in third grade.
Liesch explained, "Honestly we did everything together."
The two became friends when Paynter moved into the house down the street from Liesch and were in the same first grade class. Paynter explained how Emily was her first friend at Hershey when she moved into town.
"It makes me a little sad to think about because she will be going to Davidson for college and I will be going in another state," said Liesch.
Liesch laughed explaining how one time the two went rollerblading in third grade and then Paynter tripped over Liesch and got her braces stuck in her lip.
"My braces got caught in my lip and I still have a bump on my lip where it was stuck," said Paynter.
About the Writer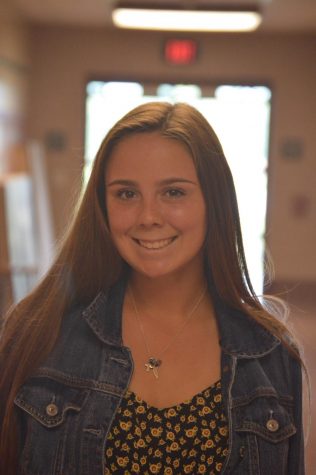 Elaina Joyner, Reporter
Elaina Joyner is a reporter that specializes in photography. She is a senior at Hershey High School and has been a part of the Broadcaster for three years....