Teacher Profile: Lindsey Nester
Hang on for a minute...we're trying to find some more stories you might like.
Former athlete and collegiate coach is the newest member of the Hershey High's English department.
Lindsey Nester is a new teacher at Hershey High School. She was a student teacher at Hershey Middle School for 8th grade teacher, Mrs. Owens, for a semester. She now has a full time teaching position at HHS.
Nester graduated high school at Lancaster Catholic which was where she was first inspired to teach and knew that teaching was the best job for her. Nester explains that she had a "freedom writing" teacher that led her to choose the career path.
"I actually always wanted to be an English teacher, and I also debated just doing coaching full time, but I thought I would miss the English aspect," said Nester.
She graduated Elizabethtown College in 2015, then decided to go back to school for two years to get her teacher certification from Penn State University. After all of her hard work and determination, she finally became a student teacher at Hershey Middle School.
Last year, Nester was a long term substitute for Mrs. Hegge for half the year. She then took over for the former HHS English teacher, Mr. Wales.
"It's going well! I'm slowly finding my footing as I'm going here. I was definitely overwhelmed at the beginning," said Nester.
Nester teaches four sophomore Academic Literature sections, two English Honors 9 (freshmen) classes, and a Creative Nonfiction course for seniors. Even with her busy school schedule, she still finds time to coach two different soccer teams as well.
"I coach a little U10 girls team for Hershey soccer club, and I am also the assistant Women's Soccer coach at Penn State Harrisburg," said Nester.
She has had a love of soccer and field hockey throughout high school and college and still has a passion for the sports. She played field hockey and soccer in high school and then proceeded to play the two sports at a collegiate level at Elizabethtown College.
Though she was nervous to start the school year off in a new position, Nester has quickly become excited and involved in all the Hershey has to offer.
About the Writer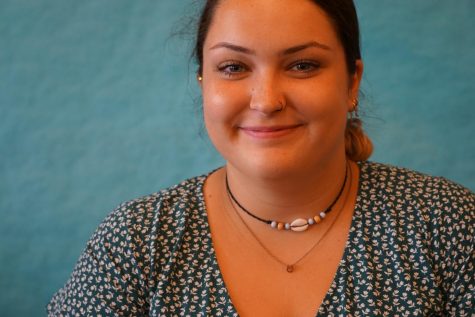 Keela Delves, Reporter
Keela Delves is a reporter for The Broadcaster. This is her second year writng for The Broadcaster. She is a junior who enjoys traveling, spending time...