Hershey Senior Nyiem Flucas sets all-time win record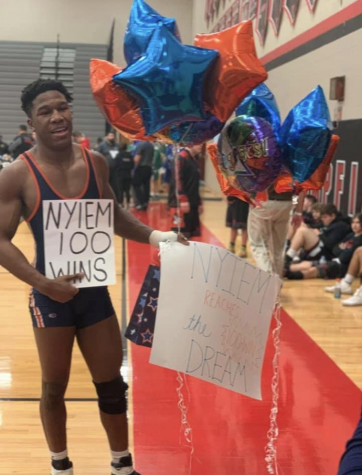 Hershey Wrestler Nyiem Flucas won his 100th career match on Saturday, February 16.
As well as winning his 100th match, Flucas broke the record for most career wins in the history of Hershey's wrestling program.
Flucas's 100th win came during the semi-final match at sectionals where he pinned Lampeter Strasburg's Logan Davidson.
He went on to win the Section 2 championship with a 3-2 decision over Penn Manor's Nick Baker.
On December 7-8, 2018, Flucas started his senior season with a third place finish in the Solanco Mule Classic.
Flucas also placed in The New Oxford tournament Friday, January 18, coming in second place after falling to two-time state champion Edmond Ruth in a 6-0 decision.
On February 22-23 he placed third in the AAA regionals after an 8-7 decision, defeating Nick Baker once again.
Flucas's qualified to advance to States for the second time, which were held March 7-9 at the Giant Center.
After falling to Peters Township Brandon Matthews by a 2-0 decision and receiving his second loss of the tournament, his high school career came to end.
Although he is undecided as to where, Flucas plans on continuing his wrestling career at the collegiate level next year.
Flucas ended his senior season with a 36-5 record, and a 106-38 career record.