Coach Blackburns prediction's come true this season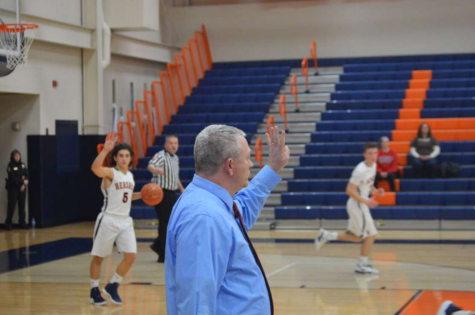 Hershey High School's 2018-2019 basketball season kicked off on Friday, December 7, 2018 with a Tip-Off Tournament.  After the tournament varsity basketball coach Paul Blackburn made predictions on how the season was going to play out.
"I think it's going to be an exciting season, we are gonna have a lot of ups and downs because most seasons you do have ups and downs," said Blackburn after Hershey High School's first tournament of the season.
With assistant coaches Ron Grier and Chad Schuyler by his side, Blackburn predicted the team would have a great year. "We lost 4 of our 5 starters…but a lot of these guys are hungry to fill the role," said Blackburn.
Now that the team is further along in the season Blackburn's predictions have been coming true. With the team at a record of 7-6, the season has been going well for the HHS varsity basketball team.
Team Captain Tyler Myrick-Loveless said "We're still growing. I'm proud of the leadership role that the young players have filled. And I'm excited to see what we accomplish throughout the rest of the season."
According to Blackburn, starters change throughout the season because "we change game plans all the time. The groups that are playing well together we try to get on the floor for the next game."
"When you finally get it all put together it's a satisfying feeling, but sometimes when you're putting that jigsaw puzzle together you can get frustrated or sometimes impatient," said Blackburn.
Blackburn seems to have figured out this jigsaw puzzle throughout the season, and now has a set of players that are consecutively starting on the court. Some of these players are Griffin Jackson, Myrick-Loveless, Jackson Mascari, Ben Hand, and Joey Corado.
"There is a lot of opportunity this year because we graduated 10 seniors last year, so there's a lot of different people needed to fill many different roles," stated Blackburn. Some of the players have had big shoes to fill to replace last year's starters.
Leading the team this year has been captains Griffin Jackson & Tyler Myrick-Loveless. Jackson is the only returning letter winner from the season prior, so he has been a big contributor to leading the team this year.
This season has had some ups and downs for the HHS Trojans, but Blackburn's predictions for growth amongst his young team has shown in their 6-5 record. The team hopes to end the season off on a high note with a chance to participate in the playoffs, but will need support from their fans at the final games.