Trojans boys basketball defeats McDevitt Crusaders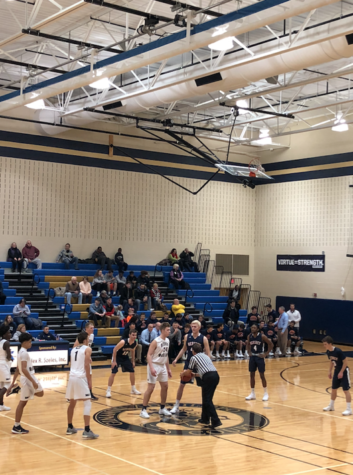 The Hershey Trojans defeated the Bishop McDevitt Crusaders 53-51 on Tuesday January 2, 2018.
The Trojans started the game with their typical starting five, consisting of Sean Coller, senior; Jake Wilson, senior; Griffin Jackson, junior; Chase Wallace, senior; and Nick Hynes, senior. Coller was the Trojans' leading scorer for the night with thirteen points.
The Crusaders began the game with a quick lead, however, the Trojans used the second quarter to regain momentum and take the lead with a score of 26-22 at the half. While the Trojans' efforts kept them at the edged lead, Crusader senior Richard Stuart and sophomore Devon Lee both landed points in the double digits to keep victory in their sights.
With foul trouble in the fourth quarter for the Trojans, the Crusaders were able to obtain their first lead since early in the game. However, Hershey brought the score to 51-51 with less than a minute left. Sophomore for the Crusaders, Jake Kelly, had the opportunity to give the Crusaders the lead with two free throws, but failed to capitalize.
Despite foul trouble that gave the Crusaders a brief lead, Hershey later gained the same advantage. In the final ten seconds of the game, Wallace was fouled, and knocked down two free throws to secure the win.
The Trojans' next game is at away against Red Land on January 9, 2018.