HHS Cross Country Senior Night
Hershey High School Cross Country beats Palmyra and Susquehanna on Tuesday, September 19 at Shank Park.
Senior captain, Andrew Sullivan, finished the race holding the time of 18:48, placing first out of the boys overall.
For the girls, senior captain, Andie Demko, ended her last home race with the time of 21:52, placing first. The next fastest times were by junior Faith Mark, senior Brooke Geyer, and sophomore Katie Jones.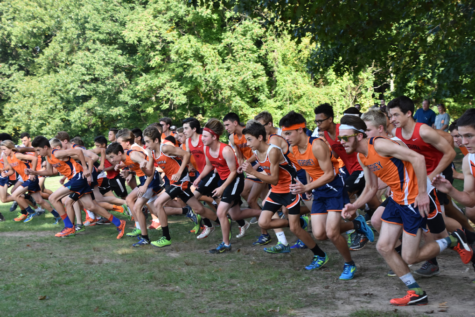 For the seniors of the HHS Cross Country team, Tuesday night was a moment for the runners of the class of 2018 to remember.
Senior night took place for all 12th graders including their parents and siblings. Receiving gratitude for their years of running, they were walked by their family in honor of their commitment to the team and dedication throughout the season. Captains for boys and girls varsity were acknowledged.
Concluding their home meets for the rest of the season, the team has six meets remaining including invitationals and districts. Ending the season in early October, the team hopes to meet their goals and gain more titles in their final weeks of running before it comes to a close.