HHS Sophomore/Junior Prom pops with color, classic designs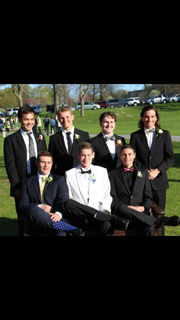 By Rachael Schirato
Cars zooming through Governor Road witnessed only a blur of manicured toes, bright fabric, and glamorous updos.
Hershey High School students showed off their unique fashion sense at the Hershey Lodge for sophomore/junior prom on April 23, 2016.
To ring in the beginning of spring, students sported floral prints, lace details, eccentric animal prints, and bright colors.
Besides the classic colors such as navy and black, many girls dressed for spring with neutral colors and pretty pastel details.
The most noticeable fashion trend were long sheaths with classic shapes and simple designs.
Two piece dresses also made an abundant appearance.
As for the boys, the classic black suit look was generally pushed aside for multi-colored bow ties and gray or navy suits.