NBA's Warriors Shoot Their Way Into History Books
By: Anthony Barrett
The most historic season in NBA (National Basketball Association) history now belongs to the 2015-2016 Golden State Warriors.
Until this year, the best regular season record was set by Michael Jordan and the 1995-1996 Chicago Bulls. They finished the season 72-10 and were the first team ever to win 70 games.
The Golden State Warriors, however, broke that record this year, going 73-9. They started the season off 24-0, which is the best start in NBA history.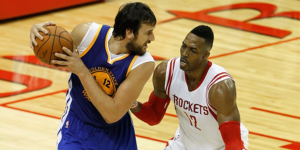 Dating back to the 2014-2015 season, the Warriors generated a 28 game winning streak, which is the second longest winning streak in the NBA has ever seen. Their streak broke on December 12, 2015 when they were defeated 108-95 by the Milwaukee Bucks.
Golden State played until January under interim coach Luke Walton. Walton did a superb job and was awarded Western Conference coach of the month for October. Head coach Steve Kerr was unable to coach first couple of months due to a back injury. However, Kerr returned on January 21st and went onto coach the rest of the season.
The Warriors are led by captains Stephen Curry and Andre Iguodala. Iguodala is a 12 year NBA veteran and a role model to a team filled with mostly younger players. Curry is the team's lead point guard and a vital component of their fast paced offense.
Curry made history of his own this season. Curry's broke the record for most 3 point shots in a season, beating his own record of 286. When all was said and done, Curry finished the season with a total of 402, crushing any previous records.
The Warriors also sent the most participants to the all-star game this season. Steph Curry, Klay Thompson, and Draymond Green were all elected by the fans to represent the Western Conference this season.
On February 27, 2016, the Warriors defeated the Oklahoma City Thunder on the road. It was their 29th consecutive win on the road which broke a franchise record. But with the win, they clinched a playoff spot. It took the Warriors just 58 games, making them the fastest team to make the playoffs in NBA history.
The Warriors start the playoff push against the Houston Rockets. They beat Houston three times during the regular season.
Most analysts expect Golden State to win the title this year. Win or lose, the accomplishments the Warriors achieved the season are astonishing.