Villanova Wildcats Win Mens NCAA Basketball Championship
By: Brandon Hill
Madness was in the air.
The Villanova Wildcats edged the North Carolina Tar Heels for the NCAA Division I men's basketball title on April 4, 2016. With 4.7 seconds left, junior Kris Jenkins, shot a three-pointer which secured their spot as the winning team.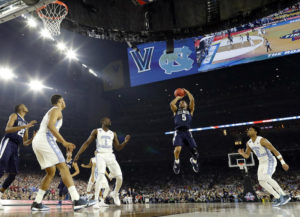 This year's March Madness Final Four consisted of Villanova, Oklahoma, North Carolina, and Syracuse. Even though Villanova came out on top, they weren't the only team with a shot to win.
The Oklahoma Sooners were the number two seed out of the West and were led by upcoming superstar, Buddy Hield, who has been averaging 25 points per game. Oklahoma has a high paced offense. The Sooners are in the top 15 in both offense and defense in adjusted efficiency and second in the nation in three-point field goal percentage (42.8). This means that they're one of the nation's top teams in getting baskets on offense and stopping their opponent from getting baskets.
Syracuse Orange was this year's "underdog" of the NCAA tournament. Since Syracuse was in the lower seed, they were unsure they would make the tournament on Selection Sunday. Syracuse entered wondering if they would be picked out of 64 teams that would make the tournament.
Syracuse ended up ranked as the tenth seed and had a spectacular run, highlighted by a comeback win against Virginia, 68-62, in the Sweet Sixteen. Their shot at nationals ended with an 83-66 loss against UNC.
Led by senior and captain, Marcus Paige, North Carolina had a good season, losing only six games before they entered the postseason. The team suffered no injuries throughout the season, making them a lethal team in the conference. During the normal season, the Tar Heels scored a total of 3,311 points.
The Villanova Wildcats started their season off 8-0 before losing to upcoming opponent Oklahoma by 23 points on December 7, 2015. The Wildcats last appearance in the Final Four was in 2009, under head coach Jay Wright. This year's team was led by Ryan Arcidiacono, who's been a captain for four years. Arcidiacono was a big influence in the Wildcats trip to the Final Four.
The final game between UNC and Villanova was neck and neck throughout the two halves, all coming down to the final buzzer. In the end, Villanova scored the national champion title. Villanova won 77-74 when Kris Jenkins netted a three-pointer with three seconds left in the game.