Hershey Wrestling Earns Close Victory Against Susquehanna
By:Kaylee Williams
Hershey High Wrestling defeated Susquehanna, 38-36, on Thursday, January 14, 2016.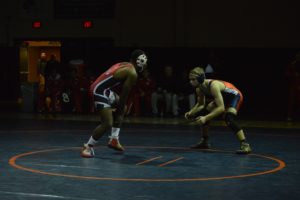 The night ended with a very close score coming from 7 wins out of the 11 HHS wrestlers.  Hershey gained 5 forfeits from Susquehanna in the 106 lb, 120lb, 182lb, 195lb, and the 285lb matches.  Along with a decision from Freshman Nyiem Flucas (160lb) winning his match 4-3 adding 3 points to HHS scoreboard.  At the end of the night HHS also gained a match winning pin from Sophomore Oliver Herndon in the second period.
The Trojans, however, did lose 4 matches.  Susquehanna gained a pin from HHS in the 220 lb match, 2 decisions in the 145lb match and the 152lb match, and a injust default in the 113 lb match.  Susquehanna also gained 3 forfeits.
"That was a match I knew we could win," said Sophomore Hayden Angello, "Even though the score was close, I had faith. Plus we had an awesome student section pulling for us!"