A Bruise to the Brain
By Madison Held
It was one of the biggest games of the season.
The Hershey girl's varsity volleyball team was taking one of their biggest rivals, Lower Dauphin, on October 8th, 2015. The score was neck in neck. It was mid game when the ball was served over the net. The initial pass was curved leading Lilly Strader to sprint to the ball attempting to reach it and clean the play up. Strader dove for the ball, saving it, but was too late to catch herself. In that instant Strader's face smacked the ground changing the rest of her sophomore varsity season.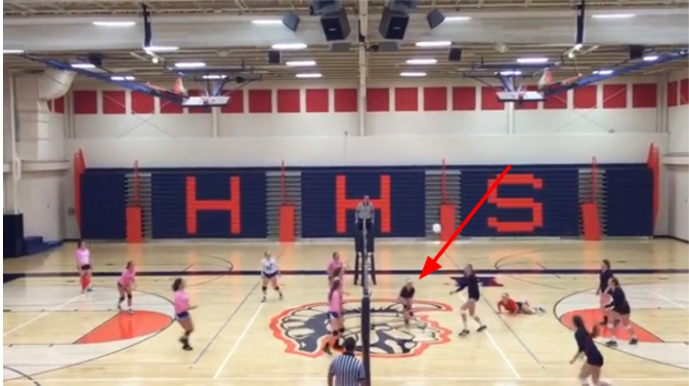 A few short minutes after Strader hit the ground, She was speaking with the athletic trainers. Her mouth was full of blood and started swelling fast. Strader was shaky so trainers put her through a series of tests to determine if she had a concussion. "I passed the balance and most of the memory tests, but I failed the symptoms portion of the test," said Strader. Strader had one hit to the ground that would later affect her.
Not all concussions are caused by a hit to a gym floor. Dr. Andrew Gould explained that during a contact sport when an athlete's teeth pound together with force it sends energy through the lower jaw to the smooth surface at the end of the bone. This then hits a portion of the brain with enough power to cause injury to it.
Dr. Gould described a concussion or a Traumatic Brain Injury (TBI) as a simple bruise to someone's brain. "There are minor symptoms one may experience or more severe," said Gould.
"The most common symptom is a headache," said Anthony Turchetta, the athletic trainer at Hershey High School, said. These can kick in immediately after accident or be more delayed.
For Strader, her symptoms did not kick in right away, so she was not sure it was a concussion. She hit her head on Thursday and was feeling good enough to practice on Friday, but Saturday it all took a turn in the wrong direction. "The headaches would not subside. I also became really irritable and I got annoyed easily." said Strader. As time went on, Strader's sensitivity to sound and light got worse.She also found it hard to concentrate.
Like any other athlete that is committed to his or her sport, Strader wanted to keep practicing. "I didn't want to sit out the rest of the season." said Strader.
On the other hand though, this only made Strader's concussion worse. The exercise only made her symptoms grow to the point where she couldn't handle the pain anymore. "I talked to my coach and he made me see the trainer and that's when I knew it was a concussion,"  said Strader..
Just like Strader did, "The first thing anyone should do when they think they have a concussion is to report their symptoms," Turchetta explained.Talking to a coach, athletic trainer, or physician could help save time a according to Turchetta.
From there they will tell you to rest as much as you can. "That is the number one thing someone can do to be removed from post-concussion protocol.  Sometimes a day or two, often a week or two, but I have seen some so severe that they miss the entire season," said Gould.
For Strader these were the exact instructions she was given by the trainer. This helped so that Strader would not face any long term effects.This was the only concussion she had. Turchetta explained that a single concussion will get better. However, according to Turchetta every concussion is specific to the individual, and some people will get better faster than others.
Often multiple concussions can lead to critical conditions, including some that could last forever. "Research has been shown that multiple concussions can lead to early onset Parkinson's disease, Alzheimer's, and possible loss of vision," said Gould.
However, with concussions becoming more common and more dangerous as well, we have to wonder how to prevent them.
Gould recommends specific mouthguards for those who play contact sports. Dr. Gould studied under Dr. Gerald Maher who created "Maher Mouth Guard". "It is worn on the lower jaw and is meant to keep the mouth open 3-4mm so that the cushion is in place to protect the brain."
As a certified dentist to make Maher Mouth Guards Gould makes them for most of his patients, "I have people and athletes travelling from all over to see me for them," said Gould. As the teams dentist Gould even makes them for Hershey Bears ice hockey players.
Gould also advised that athlete's strengthen their neck and shoulder muscles. This is because those muscles for an athlete or anyone is not strong enough to hold their heads back while playing. Gould see's many high school athletes with concussions and recommends that anyone playing a contact sports is wearing the right equipment to prevent them.
As for Turchetta he recommends that anyone who plays a sport does three things. "Change your playing style, wear protective equipment properly, and play by the rules" Said Turchetta
For Strader she would recommend to athletes that they be aware of what they are doing, "Protect your head at all costs. because a concussion is nothing to mess with."