Lil Wayne and Blink-182 announce Hershey tour date
Lil Wayne and Blink-182 will be coming to Hersheypark Stadium on Friday, July 5, 2019, at 7:30 pm.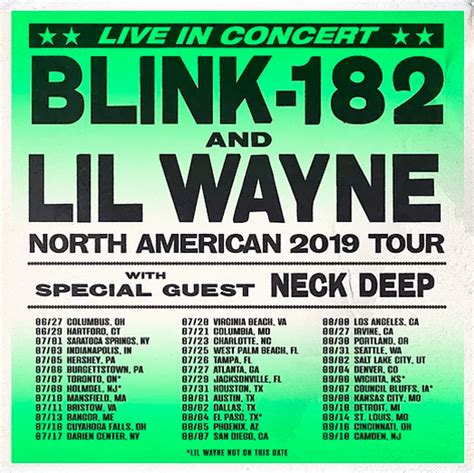 Although Blink 182 and Lil Wayne seems like a pair from different spectrums of music, Travis Baker, the Blink 182 drummer, brought on Lil Wayne for his first solo album "Give the Drummer Some."
As the two acts co-headline around the country on their North American tour, Neck Deep, a pop group, will be the opening act. The tour will play in 38 cities around the country in both indoor and outdoor venues.
Lil Wayne will be returning to Hershey for the first time since July of 2011, and Blink-182 last performed in Hershey in August of 2016. This is the mash-ups first time coming to the town together.
In a video announcing the tour, the two made a video with a mashup of their popular songs, "What's My Age Again" and "A Milli."
The tour will start in Columbus, Ohio in late June, and it will end in Cincinnati, Ohio in September.
Tickets for the Hershey show can be purchased at the box office or online at Ticketmaster.com.