Bryce Harper signs with record $330 million, 13-year contract with Phillies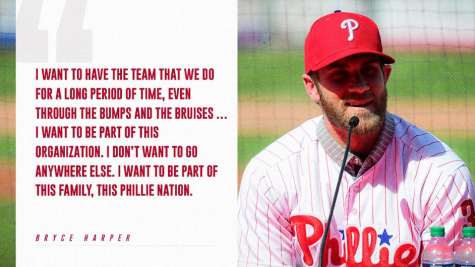 Outfielder Bryce Harper signed a 13-year contract with the Philadelphia Phillies worth $330  million on Thursday, February 28, 2019.
Harper's signing came a week after spring training had already started for his new team.
The contract is the largest in American sports history, surpassing Manny Machado's 10-year $300 million from earlier in the month.
While Harper's contract will certainly bring fans to Citizens Bank to watch the Phils, some have criticized the deal for being too player-friendly.
First, there are no opt-outs in the deal, meaning that if Harper doesn't play as well as he is being paid, the Phillies can't simply release him back into free agency.
Second, Harper has a full no-trade clause, so he can veto any time the Phillies want to trade him in the next 13 years. Essentially Harper is going to be in Philadelphia for a long time.
While it may be a risky contract, the Phillies are definitely a step closer to becoming a playoff team. While Harper is certainly the biggest move of the offseason, it is by no means the only one the Phillies made.
The Phils also traded for All-Stars Jean Segura and J.T. Realmuto as well as signing free agents Andrew McCutchen and David Robertson.
While they may not be favored for a title yet, the Phillies will definitely be one of the most watched teams this season.