Hershey Ice Hockey falls to Palmyra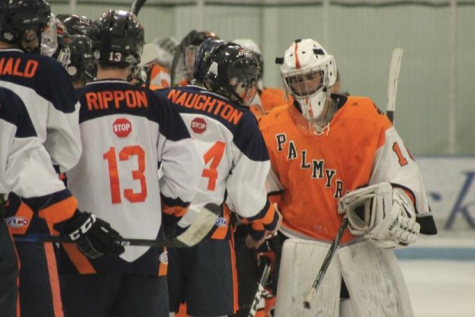 On Monday, February 11, 2019 the Hershey Boys Ice Hockey team fell to the Palmyra Cougars at Klick Lewis Arena 6-2.
The Trojans got an early first period lead with goals coming from juniors Cole Buchanan at 1:37 and another by Jason Rippon at 6:04.
Seconds later the Cougars came back to tie the game with back to back goals, the first coming from Derrick Ciesielka and another from Kyle Ziemba.
Heading into the second period, the game was tied at two until Palmyras Brandon Cheyney netted a goal to put the Cougars on top.
In the third period Palmyra added three more with goals coming from Owen Schmidt (2) and Jake Herman, and the Trojans were unable to make a comeback.
The Cougars will now advance to the Bears Cup, which will be held Friday, March 1, at Hersheypark Arena.
Central Dauphin will face Cedar Crest on Wednesday, February 20, and Hershey will face the winner of that game Monday, February 25 at Klick Lewis Arena.
The winner of that will advance to face Palmyra for the Bears Cup Championship.