How to style using 2019's color of the year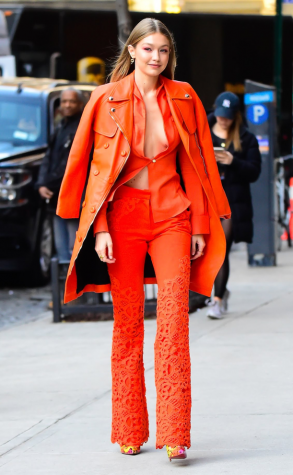 2018's color of the year, "Ultra Violet" is out, and "Living Coral" is in.
Pantone, the official color institute, recently announced that coral is 2019's new color of the year.
"Living Coral embraces us with warmth and nourishment to provide comfort and buoyancy in our continually shifting environment," said Pantone.
The vibrant orange shade now will be seen more often in the fashion industry, entertainment industry, popular travel destinations, etc. For the fashion industry, this will be a change because coral usually isn't seen to often on the red carpet. Also, it's not a shade commonly worn by teens, so styling the new shade might be difficult for some.
Since the shade is a "vibrant, yet mellow" according to Pantone, the color can be worn as the statement piece of the outfit. Whether it's through a hand bag, earrings, shoes, necklaces, etc, the color is bright enough to make an outfit pop.
"I think nail polish would be a pretty way to add coral to an outfit, especially in the spring and summer months," said sophomore Maivy Dang.
The coral in the look doesn't have to be from an outfit, it can be in the makeup instead. "we suggest taking a cue from model, Gigi Hadid. Play around with some peach-colored eyeshadows…" said People magazine. Gigi Hadid has incorporated coral into many of her red carpet makeup looks not only with eyeshadow, but also with coral shades of lipsticks.
Brands like Too Faced, Loreal, Urban Decay, and Mac all sell products that could incorporate coral into a makeup look.
Gigi Hadid also was also was one of the first people to style 2019's color of the year. The day after the announcement Hadid was seen on the New York streets wearing a full coral outfit. She wore the color in a full pant suit, and in her high heels. Obviously, this isn't a usual look to wear for a normal teen, but Hadid showed that coral can be worn in a fashionable way even in the winter.
Other celebrities that style coral in every season is the royal family. Whether it's Kate Middleton, the Duchess of Cambridge, or Queen Elizabeth the royal's have been seen in coral before it became the color of the year. People Magazine said "In fact, she's [ Kate Middleton] worn it quite a bit throughout her years as a royal"
Coral may not be the most popular color, but celebrities have inspired people on how to wear the shade. The color definitely will make an entrance this year as Pantone's 2019 color of the year.