Despite Loss at Lower Dauphin HHS Boys Wrestling Qualifies for Districts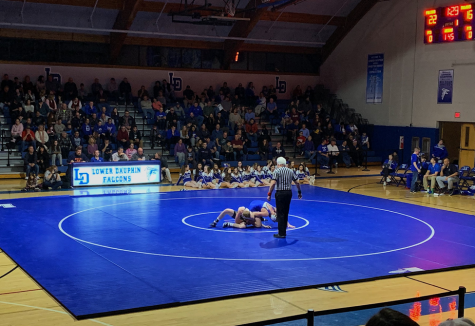 The Hershey High School (HHS) Trojans wrestling team was defeated by the Lower Dauphin (LD) Falcons with a score of 28-36 on Thursday, January 24, 2019.
Despite the loss, the Trojans will be heading to Districts at the fifteenth seed. The Trojans last went to Districts in 2012.
The match started with no contest at the 220 weight class. Followed by forfeit wins, the Falcons took the win for 285 and Trojans for 106.
At 113, Colin Phipps defeated his opponent followed by Ethan Ketner winning at 120. The Falcons rallied back with wins in the following matches at 126, 132, 138, and 145. Two of those wins came by fall for the Falcons which brought the score to 16-25.
At 152, HHS junior Tanner Updegraff won by fall, but the Falcons then followed with a win by forfeit.
Taking the lead, the Falcons won the 170 weight class match putting them ahead of the Trojans by 4 points.
The match ended with a win by HHS senior Nyiem Flucas at 195. Failing to gain enough points to tie the match, the Trojans lost to the Falcons with a final score of 28-36.
9-2 after the loss, the Trojans will be competing for the first round of districts at Chambersburg on Tuesday, January 29, 2019.