Then and Now with Kyle Hand
Hang on for a minute...we're trying to find some more stories you might like.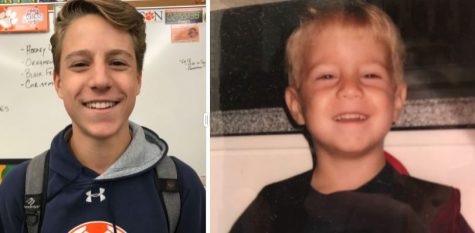 Kyle Hand, sophomore, moved to Hershey in August 2007 after living in Wisconsin.
"Wisconsin was a fun place to live because we lived by a lake and close to the city of Milwaukee," Hand said.
He lived in Wisconsin until he was four years old and has lived in Hershey ever since.
Hand's most memorable moment in Wisconsin was when he broke his left arm when he was two years old. He was in a cast for eight weeks.
"I got a little tikes tricycle for Christmas and thought it was a good idea to drive down my hardwood stairs and broke my left arm," said Hand.
Hand was getting ready for the first day of school in his kitchen in Milwaukee and reminisced about how happy he was. He laughed about wearing an Incredibles outfit to his first day of school.  Hand is now a student at Hershey High school and plays both soccer and basketball for the high school.
"I have grown a little bit and no longer wear Incredibles paraphernalia to school," said Hand.