New Teacher Profile: Kimberly West
Hang on for a minute...we're trying to find some more stories you might like.
Typically on the first day of school, you expect to see a few new students, but what you may not expect to see is a new teacher.
Kimberly West, Hershey High's newest English teacher, is starting the school year in a new school and is ready to be a part of Hershey's education program.
West graduated from Bloomsburg University with a teaching degree, but teaching wasn't always her first choice.
"I took a gap year after high school after pursuing law, and it just wasn't my thing. I wanted to do for others what my teachers did for me," said West.
She was inspired by her 11th grade AP Literature teacher who took her from being a non-reader to giving her books that made her question how she felt about the world. With the encouragement of her English teacher and her fondness of reading and writing, her love of teaching began.
Prior to teaching at Hershey, West taught at Pine Grove High School, a small school in the coal region of PA for four years. She wanted to be able to play a small role in that kind of growth and development for children that have these great opportunities.
"I saw this school and town, and I thought it was so cute but then I did the research and it's more than just a cute school," said West, "It's an amazing school with all the resources you have, and I wanted to be a part of that."
Although she started her career teaching freshman, she enjoys teaching sophomore and juniors at Hershey. West explained that one of her favorite books to read and teach is To Kill a Mockingbird.
"I love to teach kids about social awareness and life being bigger than themselves," said West.
In the past, West taught about the Holocaust and the novel Night; teaching students about history repeating itself and other important life lessons is a huge part of her teaching style.
Being an English teacher, West is an avid reader and has many favorite books.  Slaughterhouse 5 is one her favorite books, proving her love for science fiction and war infused novels.
West said Slaughterhouse 5 "made me question the way I view time and how time is relative."
West is very excited to be a part of Hershey High as a member of the community and the staff. She hopes to make a difference in her students lives and make learning fun while doing so.
About the Writer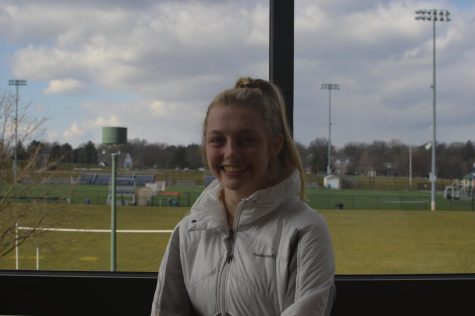 Emily Massage, Reporter
Emily Massage is a news reporter for the Broadcaster. This is her first year writing for the Broadcaster. She enjoys coffee, running, and pole vaulting.