Editorial: Why athletes shouldn't "stick to sports"
In the last several years, a growing number of professional athletes have decided not to "stick to sports", but rather support what they believe is right. The phrase "stick to sports" has become a common rebuke to nearly any figure in the world of sports, used when they express a political opinion. Athletes have every right to, and should, voice their opinions on political issues.
In the current political situation the United States is facing, should athletes be expected to remain silent on issues facing the whole country? Should they stick to their profession, even when major politicians, including the president, involve themselves in every aspect of the media?
In August of 2016, then 49ers quarterback Colin Kaepernick began kneeling on the sideline of games during the playing of the national anthem to protest police brutality. Kaepernick was soon followed by more than 200 players in the NFL. Today the quarterback remains without a job in the NFL, a testament to the fact that even owners and executives in the league believe an athlete's job should be limited to playing the game.
This treatment of players isn't limited to Kaepernick. Earlier this year, Cleveland Cavaliers player Lebron James was called out by Fox News host Laura Ingraham for commenting on Donald Trump. James said in a video that much of what Trump says is "laughable and scary".
"The No. 1 job in America, the appointed person is someone who doesn't understand the people," James said. Ingraham later responded, telling him to "shut up and dribble".
Ingraham's reaction is something that has been present in the US for years. Many now look at the late boxer Muhammad Ali as an icon. But in the 1960's, much of America hated him for his political stances and willingness to express them. Tommie Smith and John Carlos received death threats after their famous protests at the 1968 Olympics.
More recently, many athletes have refused to visit the White House after winning their sport's championship, something that has been a long tradition. Steph Curry, Malcolm Jenkins, and the whole University of North Carolina men's basketball team top the list.
Coaches have involved themselves in politics as well. NBA's Greg Popovich and Steve Van Gundy likely the most outspoken, commonly commenting on Trump in press conference interviews.
"I don't care what anyone says, I'm sure they have other reasons and maybe good reasons for voting for Donald Trump — but I don't think anybody can deny this guy is openly and brazenly racist and misogynistic and ethnic-centric," Van Gundy said after the election.
To tell these athletes and coaches not to use their voices to raise awareness on issues is un-American. It's saying that their right to free speech ends when they become professional athletes.
Athletes have a responsibility to use their platform to speak out on important issues. Not only do they have a responsibility, but they would be wrong to not do so. These athletes have been given a platform that nearly no one else has. They are looked up to by thousands of fans, not just kids, but adults too. So when police brutality is affecting African Americans around the country, athletes like Kaepernick, often minorities, can and should use their position to raise awareness.
And do be afraid to speak up and add your voice.  That right is enshrined in the First Amendment.
About the Writer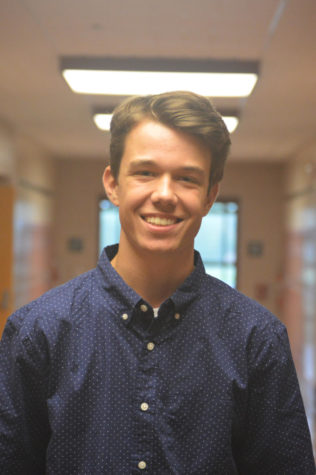 Kieran Hogan, News Editor
Kieran Hogan is one of the news editors for the broadcaster. He is a senior at HHS and has been a part of the Broadcaster for three years. Kieran enjoys...