Bliss Crepery creating gastronomic bliss
Miranda Schneier, Reporter
May 8, 2018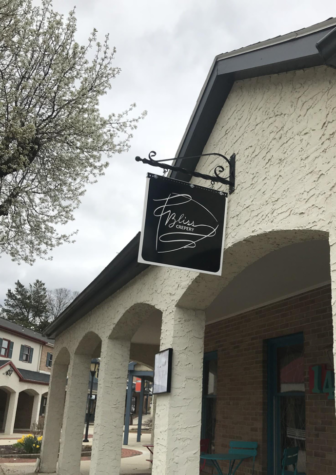 It is as if a little piece of France came to Hershey.
Bliss Crepery opened a uniquely styled eatery on September 12, 2017 at 14 Briarcrest Square, Hershey, PA. They specialize in both sweet and savory crepe creations. They also support local artists such as Suze Moll.
Bliss Crepery at Briercrest Square is an independent family business owned and operated by Heather Bryner. Bryner is a former Hershey School teacher who wanted to try something new and different. She was influenced by a crepery she saw during a trip to Utah.
One of the struggles for the crepery was getting enough customer traffic when they first opened up. Grace Bryner said, "It was pretty slow at first." They are doing better now and are very busy around lunchtime.
Open from 10 am to 8 pm most weekdays with an earlier 9 am opening on Wednesday.  On the weekend Bliss is only open on Saturday from 9 am to 8 pm.
The eatery is located on a pleasant walkway in the Square and has outdoor seating for those wanting fresh air.
Inside you'll find, what Mrs. Bryner called, "a funky and eclectic" interior design with unusual decor inspired by the 50s and 60s American styles.
The restaurant's color theme is red and teal. Bryner said, "Everytime I go in there I feel happy, and I want to work."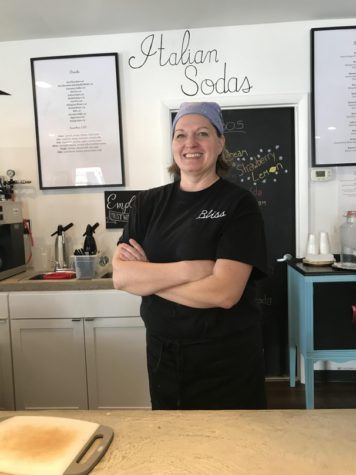 The menu is wide and varied, including both savory and sweet crepe creations. They have more than 20 varieties of fillings.  While the menu is stocked with tasty options, customers can make substitutions or custom order their own crepe.
The three most popular crepes on the menu are the savory BST and HB crepes.  The BST is a play on the classic BLT—bacon, lettuce and tomato. The BST features bacon, spinach, and tomatoes with a creamy Caesar dressing.  The HB crepe spotlights the slightly sour green apple, soft brie, watercress with a choice of either a dill sauce or a balsamic glaze.
The most popular dessert crepe is the Nutella crepe.  It comes with a choice or strawberries, bananas or both.  Other options include the decadent Cheesecake Crepe with a "sweet whipped cream cheese filling with strawberry or banana," according to the menu.  The s'mores filled Sandlot crepe is a big favorite among younger customers.
Crepes were first created in Paris as a mistake by Henri Charpentier. According to Epicure & Culture, an online food magazine,  "Henri Charpentier was a world famous chef and invented the Crepe Suzette. He was preparing a dessert for King Edward VII, but he spoiled the sauce and burned it. As a recovery name, he called it Crepe Princesse. The Prince asked that he rename it for the little girl, Princess Suzanne, and so it became Crepe Suzette."
Bryner said, " The best part about making crepes is when you see the customers enjoy your creation."