Andie Demko gets ready to run at Penn State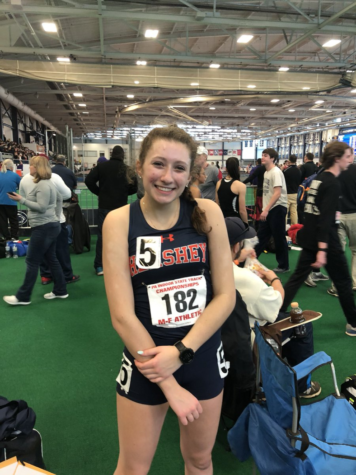 One Hershey High senior is ready to lace up for the Nittany Lions.
Senior Andie Demko has been running ever since she was a little girl with her family building up to be on the cross country and track and field one day.  In the fall she will attend Penn State University.
Andie has been running for all she remembers due to her parents being a key factor for her love for running.
"If my parents went to the track, I would go to the track," said Demko.
With her parents running in college, Demko said she was never pressured into doing the sport. Her parents always said, "you have to love running to be into it."
Both of her parents ran at Shippensburg where they had met. During her 8th grade year, she started running more mileage to get better. Andie trains all year round with any weather inclements; when winter rolls around, her mileage may decrease to work on speed for indoor track.
"During cross country season, I run about 10 to 12 miles while during track season I run about 8 to 10 miles," Demko said. She also does training other than running.
"In the winter and spring season," Demko said, "I try to lift about four times a week and do core almost everyday."
Demko said that in races, it's mostly strategy. During the mile race, she uses her strategy to get the job done; she knows when to push herself and when not to.
"I used to get nervous for the competition but knowing how much it's going to hurt and the pain I have to put myself into, is what I really get nervous for," said Demko.
"I like the mile a lot," said Demko, "but I like cross country, too, since it's a smaller team."
Demko believes that she is more of a strength runner.
"The people on the cross country team are my best friends," said Demko. She and her teammates get along very well and with all the training they do together they have a very strong bond Demko said.
Demko has six siblings who are named Aiden, Gabbi, Lemlem, Eliza, Kidst, and Alistair. The two brothers are her biological siblings while her four other sisters are adopted. Thankfully they all get along very well Demko said.
She and her family has helped her make her decision for college. She committed two weeks after her official visit for Penn State University during December of this past year.
Demko said it was hard for her to choose which college she wanted to go to since many colleges wanted her. One college she was thinking about attending to was East Carolina. Since it was farther from home than she wanted, she chose Penn State.
Demko isn't sure what she would like to major in, but she is thinking about nutritional science. She said she will probably pick her major after her first semester.
"I've lived her for my entire life, so I'm excited to leave for college," said Demko. She says that she is ready for the athletic part of college and also the academics.