Angels Rookie Ohtani Having Historic Start
Hang on for a minute...we're trying to find some more stories you might like.
Too good to be true?
Shohei Ohtani was one of the most talked about players in Major League Baseball's offseason. His ability to both pitch and hit in the Nippon Professional Baseball League (Japan's equivalent to Major League Baseball) made him one of the hottest items on the free agent market. Known as "Japan's Babe Ruth," Ohtani made quite a splash when he signed with the Los Angeles Angels.
Ohtani began his career from the hitting perspective on opening day. Ohtani batted eighth and was the designated hitter for the Angels as they took on the division rival Oakland Athletics. While he wasn't too impressive, Ohtani recorded a hit in his first career at-bat.
Since then, Ohtani has been on fire. So far this season, he has hit 3 home runs, driven in 11 runs, and he has a batting average of .346 according to mlb.com. Even though Ohtani can't hit in every game, he makes an incredible impact providing an extra all-star caliber hitter in the Angels' lineup.
While Ohtani has been hitting the cover off the ball, he may be even better on the mound. Ohtani's first career start was on April 1st against in game three in the series against the Athletics. Ohtani went six innings and was nearly flawless except for a home run he allowed in the third inning. Ohtani ended up earning the win for his team.
In his first two starts, Ohtani has won both games with an earned run average (ERA) of 2.08 while striking out 18. Ohtani also managed to throw 10 consecutive no-hit innings between these two games. It's stats like these that led to Ohtani winning player of the week to start the season.
The Angels team has also felt the impact of Ohtani's performance. They are currently in first place in the American League West division, ahead of the defending champion Astros. While this luck may not last for the team, Ohtani could be leading his team to their first playoff appearance in years.
The Angels haven't been to the playoffs since the 2014 season, according to baseballreference.com. Even though they have star players like Mike Trout, they haven't been able to put it all together and make a serious playoff run. No player other than Trout has made an offensive impact for the team, leading to seasons with more wins than losses. Ohtani's presence could add a much needed jolt to the team's offense to lead them to the World Series.
With Ohtani breaking the divide between hitter and pitcher, he has already entered the discussion for Most Valuable Player (MVP). In fact, according to Matt Snyder of cbssports.com, he's one of the favorites to win the award. Ohtani could "pitch to a 2.75 ERA while hitting 20-plus homers with a good average and on-base percentage," according to Snyder.
But the biggest compliment to Ohtani is the player he's been compared to since he became a two-way player: Babe Ruth. Ruth, regarded by many as the greatest player of all-time, was a player who played from 1914-1935 who was a pitcher for the first part of his career and eventually became a full-time batter. Ohtani showing his potential at the plate and on the mound proves this comparison isn't as far as one may think. Ruth was known for hitting home runs, and Ohtani proved his power by hitting three in one week. On the mound, Ruth also got off to a roaring start, winning 18 games in his first full season.
Carlos Feliciano of halosheaven.com also drew several comparisons between Ruth and Ohtani. For example, Ruth and Ohtani were the same ages when they made regular hitting appearances, and they are the only players since 1920 to play on both sides of the plate.
About the Writer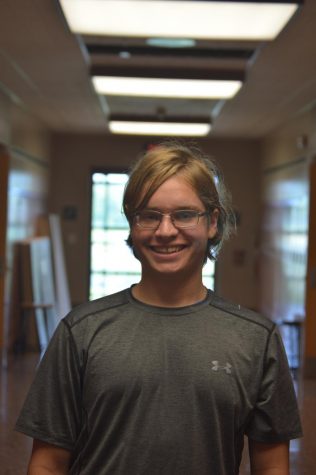 Sam Allery, Sports Editor
Sam Allery is the editor of the Sports section. He is a senior at Hershey High School and has been a part of the Broadcaster for three years. Sam also...