New App Helping Models Fight against Sexual Harassment
While modeling may seem full of glitz and glamour, underneath it all are women afraid to speak out against those who take advantage of them, but with new app Agent, this will no longer be an issue.
Sexual Harassment has become a topic more women have begun to open up about with help from the recent #MeToo Campaign, which was meant to inspire women to speak out about their sexual harassment stories in hopes of achieving justice. The fashion industry has taken a step in the right direction with the creation of the app Agent. The app is giving models in the fashion industry a safe way to book jobs, and contains extensive safety precautions to ensure no one with a criminal background is trying to scam these women.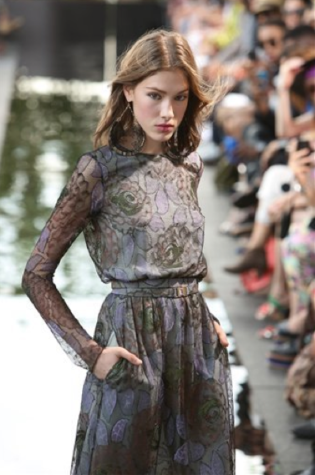 CEO Mark Willingham and co-founder Dustin Diaz created the app in acknowledgement that the profession is often romanticized with designer clothes and jets to photoshoots, but the reality is,  modeling isn't as luxurious as it may seem.
According to Teen Vogue, while creating the app, the main focus of Willingham and Diaz was finding the three main issues most models face in the industry. After much deliberation, they concluded the issues they wanted to fix were lack of transparency, lack of empowerment, and lack of payment in a timely fashion.
"It's bad. Just a total lack of transparency. It's amazing how often models find out their agency is getting two or three times what they're getting paid. The agency is supposed to just get 20%," said Willingham to Forbes.
Agent is meant to fix that. The app will allow models to book gigs directly with clients instead of booking through an agency. In addition to easier bookings, any client or brand using the app must go through background checks, a sex offender check, ID verification, and verification of business to ensure the model's safety.
"You see these stories about girls being taken advantage of, a lot of them young. As crazy as you can get. We just said this business could really use a kick," said Willingham.
According to Forbes, in the event of emergency, the app also includes a panic button. If the model is feeling threatened, they can go into the app, and the app will send an emergency contact and GPS coordinate for them to follow to get help.
Along with protective and easier bookings, models are able to rate and review clients they work for, and the environment of the job, which works to end the seemingly "culture of silence" surrounding sexual assault and sexual harassment in the industry.
Although Agent gives models the ability to book jobs without an agency, the app's intent is not to replace agencies. Willingham told Teen Vogue that his long term goal is to be able to sell the Agent's software to modeling agencies so they can give their models the benefits the app contains. But what Willingham would most like to see is for traditional agencies to provide that better level of service and safety without their need for intervention.
"Ensure that your models are feeling safe and secure. If you're a great agent, we won't have an impact on you. If you're not, what we're doing is going to hurt you. That's the perfect world of business," said Willingham.
In addition to business, the app has a section for advice and tutorials, which has videos for models about runway walk tips, and has a place for models to go for advice if they have dealt or are dealing with harassment.
Willingham expressed his intent of creating the app, "We're going to empower models with tools to actually grow their careers and not allow that power to lie in the hands of someone else who may not have the same interest at heart."