Prom Styles Breaking Boundaries in 2018
Prom season is upon us and sneaking up fast. Before you know it, it will be time for "promposals" and blinged out dresses. In this day and age, there are more prom styles than ever before.
Long to short, current to classic, edgy to relaxed, there are no rules when choosing the dress of your dreams. Online shopping broadens the horizons and allows you to carefully decide on the perfect dress.
Short Dresses
Prom is usually known as the dance to wear long, flowy dresses; however, breaking fashion boundaries has been in recently. If a long dress is not your first choice for length, experiment with other types, such as short or mid-length dresses.
Jumpsuits
If a dress is not of your liking, try out a jumpsuit. You are nearly guaranteed to not have a single person wearing the same outfit. Jumpsuits offer a sense of comfort and eliminate any possible wardrobe malfunctions.  
Simple Dresses
Don't underestimate plain dresses for prom. There is so much hype about finding the most unique dress, however there are ways to make a simple dress your own. Reimagine the plain dress with  statement heels, big jewelry, or colorful makeup.
Boho
The more unconventional and free spirited dresses have been taking over the internet. There are many routes to take, as far as earthy color combinations and interesting fabrics go. Bohemian styles compliment relaxed flowy locks.
Classic
A classic prom dress can be classified as many different things. Plain colors never go away when it comes to prom dresses, especially dark colors. There are ways to change up classic looks, such as a variety of classy cuts and a few sparkles here and there.
Embroidered and Embellished
These two types of dresses have been among the most popular trends this 2018. Embroidered, lace flowers have made a huge appearance in nearly every store that sells prom dresses. Sparkles also remain very popular and a prom dress must.
Two Piece
Just like any regular dress, there are very many ways to change up a two piece dress. This style looks like a typical dress, however the dress is split into two pieces, the top resembling a shirt and the bottom part similar to a maxi skirt.
About the Writer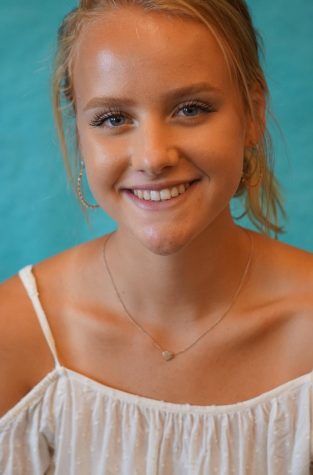 Katie Jones, Brand
Katie Jones has been writing for the Broadcaster for three years and is The Brand Manager for the Broadcaster. She is a senior who enjoys running, going...