Shooting at Florida High School leaves 17 dead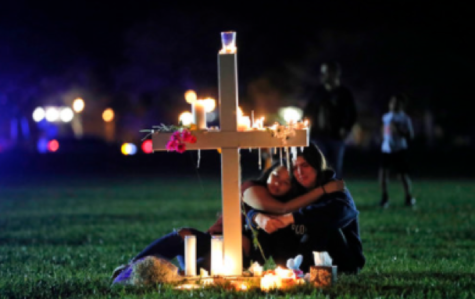 "It has become one of the deadliest mass shootings in United States history." A headline that is heard far too often, is being heard once again.
A gunman entered Marjory Stoneman Douglas High School in Parkland, Florida on Wednesday, February 14. According to CNN the suspect, 19 year old Nicholas Cruz, entered the high school at approximately 3 p.m and activated a fire alarm, causing students to roam the halls in groups, with no awareness as to what was about to occur.
NBC reports that Cruz was a former student at the school, but was expelled due to disciplinary issues. During the shooting, Cruz roamed the halls he knew well, reportedly targeting students huddled in classrooms. According to the Broward County Sheriff's Office, students began to evacuate, Cruz hid amidst the students, but was arrested later that day in Coral Springs, Florida.
While many were shocked by the horrific act, some weren't. CNN reports that many of Cruz's former classmate were not surprised he was the one to commit such a shooting.
"A lot of kids threw jokes around, saying that he's the one to shoot up the school, but it turns out everyone predicted it," student Eddie Bonilla told CNN.
According to NBC, Cruz reportedly used an AR-15 semi-automatic rifle. By the end of the rampage, twelve were killed inside the school. Additionally, three were killed outside, and two died later at the hospital.
"That should not happen in Parkland. It should not happen anywhere in this country. We have got to find a way for this to stop," said Robert Runcie, Broward County Public Schools superintendent.