Amazon Releases Short List of Potential Cities for its Second Headquarters
On Thursday, January 18, 2018, Amazon announced the top 20 potential cities in the running to be the location of Amazon's second headquarters. According to Amazon, the new facility, called HQ2, is estimated to create 50,000 high-paying jobs and cost $5 billion to build and operate.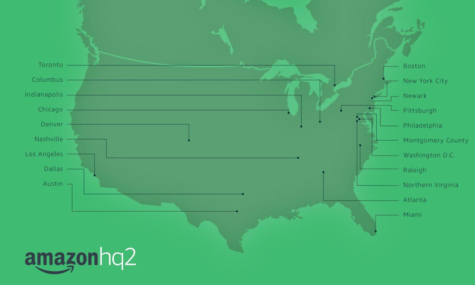 Last year, 238 communities submitted proposals from regions across North America, and for good reason. Amazon's Chief Executive, Jeff Bezos, stated that the second headquarters would be a "full equal" to their operations in Seattle, which were estimated to have contributed $38 billion to the city's economy from 2010-2016.
The new HQ2 is expected to create "tens of thousands of additional jobs and tens of billions of dollars in additional investment in the surrounding community," according to Amazon.
That level of promised economic impact has prompted cities to compete for the corporation's attention. The community of Stonecrest, Georgia, offered to rename its city Amazon and adjust its land to fit the headquarters. Kansas City mayor Sly James also fought for the company's consideration by granting five-star reviews to 1,000 random items on Amazon's website.
Making the decisions that narrowed down 238 competitive cities to 20 was clearly a difficult task for the company. Sources from Amazon said that they evaluated the possible locations based on its proximity to a major airport and appeal to tech talent.
"Getting from 238 to 20 was very tough – all the proposals showed tremendous enthusiasm and creativity," Holly Sullivan of Amazon Public Policy said in a statement. "Through this process we learned about many new communities across North America that we will consider as locations for future infrastructure investment and job creation."
The company's next step is to work with the contending locations to "dive deeper" into their proposals and acquire more information, according to CNN Tech. There are many components that Amazon will take into consideration, such as how the workers and local community can benefit from the headquarters, and if the city can accommodate the company's hiring plans.
Amazon said it plans on making the final decision regarding where HQ2 will reside sometime this year, and it could even occupy the first portion of the new campus by 2019.