Baseball Hall of Fame Should Get Five New Members
Hang on for a minute...we're trying to find some more stories you might like.
Will Hall of Fame justice be served?
Every January, the Baseball Writers Association of America (BBWAA) votes on who they think should be inducted into the Baseball Hall of Fame (HOF) that summer. This year, more players that defined the late nineties and early 2000s are up for election.  There are five who deserve to be inducted into Cooperstown next July.
The most discussed and deserving player is Atlanta Braves' third baseman/outfielder Chipper Jones.
Jones played his entire 19 year career with the Braves (1993-2012) and saw a lot of success as a player and as a club. The Braves set a record for the most consecutive division titles with 14 (1991-2005) with Jones leading the offense for the majority of those seasons. The team also won three National League (NL) pennants and a World Series title in 1995.
Jones's offensive capabilities is the main reason why he is HOF worthy. Jones was selected to eight All-Star teams over the course of his career, the most special of which was his selection in 2012 when he gave a heartfelt motivational speech to his teammates. Jones was also named the NL MVP of the 1999 season. That year, Jones hit 45 home runs, drove in 110 runs, led his team to the World Series, and had a career high OPS of 1.074. Jones had a batting average of .300 ten times in his career including a league leading .364 in 2008.
Jones is also known as one of the greatest switch hitters of all time. Jones's 468 home runs is the third most for a switch hitter. The two players who have more than he does (Eddie Murray and Mickey Mantle) are both in the HOF.
Prediction: Easy Hall of Famer
Another first timer on the ballot is former Indians first baseman Jim Thome.
Thome played a 22 year career with six different teams, but he played primarily for the Cleveland Indians. When Thome first arrived at Cleveland at 1991, they lost 105 games and finished in 7th in their division, but just four years after Thome's arrival, they won five straight division titles and two pennants.
Thome's power is what separates him from all other candidates. He hit 612 home runs in his career, which is seventh all-time. Thome is also 26th all-time in RBIs with 1,699 in his career. His best seasons came in the late 90's and early 2000's, when he hit 368 home runs and had an OPS of 1.004 from 1996-2004. Thome has led the league in major offensive categories seven times, and he also was named to five All-Star teams.
Prediction: Hall of Famer, but not so easily
Trevor Hoffman came within five votes of the HOF in 2017, but he should get all the votes he needs in 2018.
Trevor Hoffman was the closer for the San Diego Padres for the majority of his career, and he made an impact greater than most position players. Hoffman led the Padres to four division titles in his 16 years with the team. The most significant year for the Padres in Hoffman's tenure with the team was 1998, when the team won the only pennant in franchise history. Hoffman was the runner-up Cy Young candidate that season and led the league with 53 saves.
Hoffman's most famous achievement was temporarily being the all-time leader in saves. Hoffman saved 601 games in his career, and the all-time leader before Hoffman broke the record had 478 (Lee Smith). Hoffman was named to seven all-star teams in his 18-year career, and finished as runner up for the Cy Young award twice. Hoffman's closing helped secure several wins for his teams, evidenced by the fact that he is 21st all-time in Win Probability Added (WPA).
Prediction: Hall of Famer
Vladimir Guerrero is another player who barely misses the HOF in 2017, but deserves to make it in 2018.
Guerrero's teams didn't have much success early in his career, mostly because he played for the failed Montreal Expos. After he went to the Los Angeles Angels, Guerrero went on to win six division titles, and an American League Pennant with the Texas Rangers in 2010. Guerrero helped lead whatever team he played for as one of the most intimidating hitters of the era.
Guerrero's hitting ability was one of the best of the steroid era. Guerrero led the league in intentional walks five times in his career, including four straight from 2005-2008. Guerrero won the AL MVP award in 2004, his first season with the Angels. Guerrero had an incredible 8 seasons with 30 home runs, four with 200 hits (difficult for a non-leadoff hitter), and came within 1 home run of a 40-40 season in 2002.
Prediction: Hall of Famer
Edgar Martinez is entering his ninth year on the HOF ballot (10 years is the maximum). While he only got 58.6% of the ballot in 2017, he deserves to be in the hall.
Martinez spent the entirety of his 18 year career as a Seattle Mariner, and saw lots of success. The Mariners has four postseason births while Martinez was a member of the team. The most significant may have been 2001, when the Mariners tied an MLB record with 116 wins in a season. Martinez had his share of postseason glory as well. One of his most famous moments came when he hit a walk-off double in game five of the 1995 American League Division Series (ALDS).
Edgar Martinez was a DH for the majority of his career, a main reason why he isn't in the HOF, so his one and only priority over the course of his career was hitting. Martinez had a career batting average of .312, and he had a career OPS+ of 147 (league average is 100). Martinez's prime years (1995-2001) were truly dominating. He had an OPS of 1.007 and averaged 110 RBIs per season. Overall, he won two batting titles, led the league in doubles twice, and led the league in On-base percentage three times.
Prediction: Not a Hall of Famer, but maybe in 2019
The Hall of Fame voting results will be announced on January 24th.
About the Writer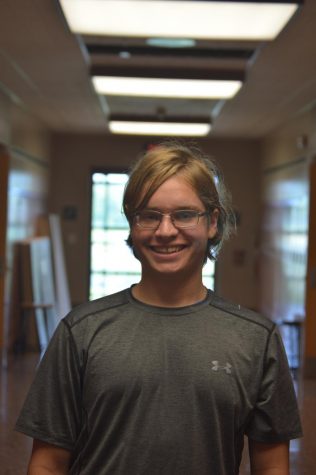 Sam Allery, Sports Editor
Sam Allery is the editor of the Sports section. He is a senior at Hershey High School and has been a part of the Broadcaster for three years. Sam also...