Hershey introduces first new candy bar in 23 years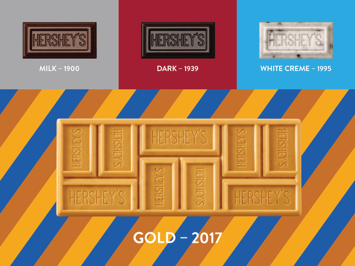 On November 1, 2017, the Hershey Company confirmed the rumors about a new candy bar, "Hershey's Gold."
Hershey's Gold is the first Hershey's candy bar released since 1995's 'Cookies 'n' Crème.' Hershey is sponsoring the 2018 Winter Olympics in PyeongChang, Korea, so the candy bar, which looks like gold, corresponds with the games.
The bar is Hershey's first candy bar without any chocolate, instead made up of caramelized crème, peanuts, and pretzels.
"It tastes like coffee creamer mixed with salty trail mix, in exactly the way you want it to," critics from Bon Appetit said.
Not only is it different in that it does not contain chocolate, but it is also not arranged in equal sized rectangles like Hershey's previous chocolate bars. Instead, it is arranged like a puzzle, with two different sized rectangles fit together into the bigger rectangle.
After 3 years of development in Hershey, the candy bar will finally be ready for public shelves on December 1; however, people in the Hershey community and tourists can get an early taste at Hershey's Chocolate World.
"Our new "Hershey's Gold" bars deliver a buttery, sweet taste that now gives our consumers a whole new way to enjoy a product from Hershey's. I'm proud of how our R&D team worked to develop a proprietary new cooking process that transforms the white crème into a golden bar by caramelizing the sugar in the crème while still maintaining the sweet, creamy taste," said Darwin Bratton, a food scientist at The Hershey Company's research department.
Bratton said the new candy bar will "give Americans a new confectionary experience unlike any others before and is sure to become a new favorite."
About the Writer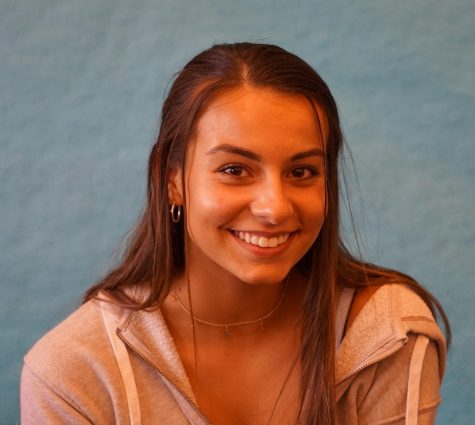 Claire Sheppard, Feature Editor
Claire Sheppard is the Feature Editor for The Broadcaster. She is a senior, and this is her third year writing for The Broadcaster. She enjoys iced coffee,...