Kaepernick's case for collusion
"To me, this is bigger than football, and it would be selfish on my part to look the other way."
Colin Kaepernick took a knee during the playing of the national anthem began in August 2016. This protest, according to the veteran quarterback, was to bring awareness to the injustices African Americans continue to face today. After seven months of unemployment following his demonstrations, Kaepernick has filed a grievance against the National Football League, claiming collusion by league owners to keep him unemployed.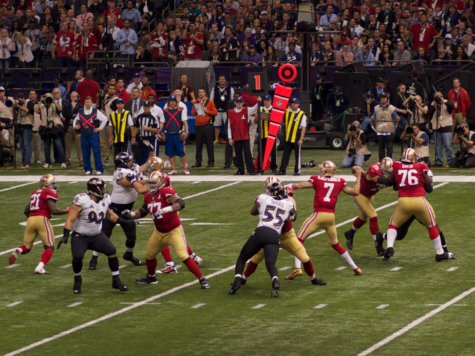 The grievance asserts that league owners "have colluded to deprive Mr. Kaepernick of employment rights in retaliation for Mr. Kaepernick's leadership and advocacy for equality and social justice and his bringing awareness to peculiar institutions still undermining racial equality in the United States."
Kaepernick's case will also target President Donald Trump's influence on the matter, claiming his repeated attacks on protesting players including Kaepernick himself is to blame for the unwillingness of owners to sign the quarterback.
Trump has been openly critical of the anthem protests since they began in 2016. He recently made headlines when he called out NFL protesters, saying they should all be fired immediately. Trump continued his words on social media, tweeting "If a player wants the privilege of making millions of dollars in the NFL, or other leagues, he or she should not be allowed to disrespect our Great American Flag (or Country) and should stand for the National Anthem. If not, YOU'RE FIRED. Find something else to do!"
Kaepernick's attorney, Mark Geragos, released a statement about the grievance, stating "If the NFL (as well as all professional sports leagues) is to remain a meritocracy, then principled and peaceful protest — which the owners themselves made great theater imitating two weeks ago — should not be punished, and athletes should not be denied employment based on partisan political provocation by the executive branch of our government."
Since Kaepernick opted out of his contract with San Francisco in March, 39 quarterbacks have been signed. Taking a look at the statistics, Kaepernick's Total Quarterback Rating (QBR), measuring the overall performance of the position, is superior to almost half of all veteran backups. His 2016 Total QBR is higher than established starters such as Ryan Tannehill, Cam Newton, and Carson Wentz.
The grievance filed points to Kaepernick's success in the NFL, stating "Colin Kaepernick's goal has always been, and remains, to simply be treated fairly by the league he performed at the highest level for and to return to the football playing field."
Following Trump's comments, an estimated 204 players sat or knelt during Week 3 of the NFL season. Many coaches and owners took part in demonstrations as well, some linking arms with their players, some even kneeling alongside them. As powerful as the message was, these are the same owners who have left Kaepernick unemployed for seven months because of those same actions (Jerry Jones, Cowboys owner and Trump supporter, being one of those). Many players who locked arms in unity criticized Kaepernick for his "polarizing" choices.
A report from March of this year by an NFL General Manager stated that around 40 percent of GM's chose not to sign Kaepernick because he either isn't good enough, or they fear backlash from fans and media, or a combination of the two. The rest "genuinely hate him and can't stand what he did."
And recently when 13 owners and more than a dozen players met with Commissioner Roger Goodell to discuss "social justice" matters, the man who began the whole discussion in August of 2016 wasn't invited, furthering Kaepernick's point of hypocrisy by the league.
Sports Illustrated columnist Michael Rosenberg compared the matter to owners not signing former Baltimore Ravens running back Ray Rice, saying "NFL teams will gladly take five men who act and think like Colin Kaepernick before signing Kaepernick himself, just as they often take players who commit domestic violence but want nothing to do with Rice. Teams are not taking any kind of political or moral stand. They just don't want to be associated with a symbol."
Kaepernick's case against the NFL is clear, and the eventual ruling will be very important to player's rights and the NFL itself.
About the Writer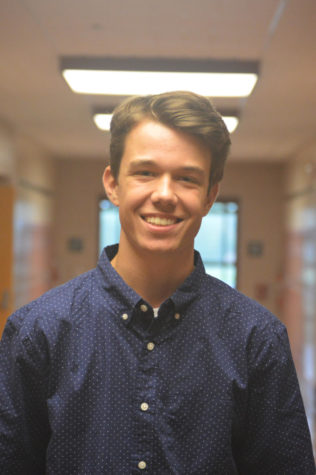 Kieran Hogan, News Editor
Kieran Hogan is one of the news editors for the broadcaster. He is a senior at HHS and has been a part of the Broadcaster for three years. Kieran enjoys...