Broadway Making Strong Connections with Younger Audience
Christopher Santiago, Copy Editor
November 8, 2017
Broadway is making a comeback, and the audience going to see these shows might not be what some expect.  
As of recently, Broadway has seen an increase in the amount of youth attending shows. The musicals Dear Evan Hansen and Hamilton are some of the productions introducing a younger audience to the world of theatre. Statistics from Playbill show that at the end of the week of October 20, 2017, Dear Evan Hansen sold 7,987 seats in The Music Box theater, which only holds 860 people.
Show Tickets has a list of musicals that resonate well with teens. The list includes shows such as Dear Evan Hansen, Wicked and The Book of Mormon.
Dear Evan Hansen is about Evan Hansen, a senior in high school who has severe social anxiety disorder. His therapist tells him he should start writing letters to himself as a confidence booster. Evan then gets into a serious situation involving the death of a classmate. The musical also explores themes such as bullying, social media, and mental illness.  
Whether it be the powerful anthem 'Waving Through a Window' or the tear-jerking 'So Big/So Small,' the music created by Benj Pasek and Justin Paul contains deep and meaningful lyrics.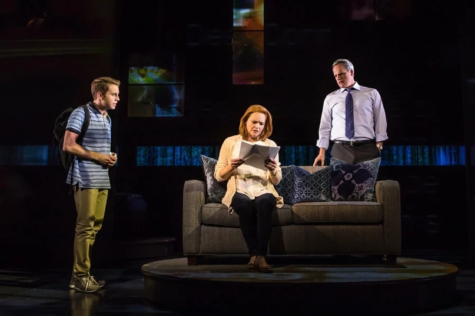 Musical theatre has been around for a long time, but in the past, many of the people in attendance of Broadway shows have been somewhat older than audiences now.
A survey conducted by The Guardian showed that "the most likely age group to attend the theatre is 16- to 19-year olds, with 45- to 54-year-olds the least likely to attend."
The Book of Mormon may appeal to teens with a satirical sense of humor. The story revolves around two young Mormon missionaries who travel to Africa to preach their beliefs to the people there. Offensive remarks to gay people, African Americans, religious figures, etc, are what make The Book of Mormon the rotten show that appeals to so many.
As Syracuse.com writer Chris Baker said, "This is a play about contrasting reality with fantasy and making fun of everything and everyone as it goes. From AIDS to Jesus to Yoda, nothing is off limits."
These musicals are having a positive response with a younger audience, however, that doesn't mean that adults or even the elderly can't enjoy them. Dear Evan Hansen works well with most ages, but it is not recommended for people below 12, due to its mature subject matter.    
"There have been an awful lot of initiatives and theatre has tried very hard over the last few years to target younger audiences, and we're seeing that pay off," said The Guardian writer Mark Brown.
There are a large variety of musicals out there that match the interest of the public. Avenue Q, School of Rock, and Kinky Boots are other shows that a younger audience might be interested in.
Broadway may be too long of a travel for some people, but Off-Broadway performances at places like the Hershey Theatre give audiences of all ages the opportunity to experience these hit shows in their own backyard.