New York Rookie Makes History Again and Again
Hang on for a minute...we're trying to find some more stories you might like.
He's Judge, jury and executioner.
Since his first home run of the year on April 10th, Yankees rookie Aaron Judge has been the talk of baseball. The California native was fighting for his spot on the roster in March, and now he's an MVP candidate. While it had its ups and downs, Judge's season had more significance than just home runs.
Judge was a starter for the Yankees since day one, and he quickly made a name for himself. In the month of April, Judge had an impressive slashline of .303/.411/.750, and he slugged 10 home runs. The most notable of these home runs was one of the two that he hit on April 28th. The home run came off of his bat with an exit velocity of 119.4 mph, the second fastest home run in the statcast era.
Judge was every bit as successful in May and June, and so was his team. Judge managed to keep his average well over .300 and added 17 more home runs to his total. Judge also managed to hit the fastest home run in the stats at era (121.1 mph) on June 10th against Chris Tillman.
Entering the All-Star break, Judge had a major league leading 30 home runs and was hitting .329, and had an OPS (on-base percentage plus slugging percentage) of 1.139. Judge was selected to compete in the home run derby on the night before the All-Star game. He blew away the competition and defeated Twins' Miguel Sano in the final round. But the dreaded second half slump hit Judge hard.
Judge failed to come close to his first half form when the second half of July came. After severely struggling at the plate, Judge would finish July with an average of .230 and just 13 RBIs (he had 25 in June). Judge's OPS fell 70 points in July.
August only brought more rough times at the plate for Judge. His average fell below the Mendoza line that month. Judge also only hit three home runs in August, and none after August 16th. The team suffered with Judge, losing more games than they won in August and fell far below the Boston Red Sox for contention in the American League East.
Judge's hitting performance underwent as big of a change in September as it did in July. September was Judge's greatest month of the year. He hit 15 home runs in September and drove in 32 runs. His OPS nearly doubled from the last month, and he helped get his team the first American League Wild Card.
September also brought Judge's most historic home run of the year. On September 25th, Judge managed to hit two home runs, his 49th and 50th of the year. These home runs tied and broke the record for most home runs in a season by a rookie. This record had been held by Mark McGwire, convicted steroid user, for 30 years. Judge had forever etched his name into baseball history.
Despite it being the most significant, Mark McGwire's home run record is not the only one Judge broke this season. Judge tied the record for most career home runs against the Baltimore Orioles in just one season (Hall of Famers Lou Gehrig and Hank Greenberg also hit 11 home runs against Baltimore).
According to ESPN, Judge broke Babe Ruth's record of most home runs in one year at Yankee stadium. Finally, Judge reached base 286 times this year, the second most among rookies in the last 75 years (Kevin Seitzer reached base 289 times in 1987).
Judge is a prime candidate when it come to awards season. He is seemingly a lock for American League Rookie of the Year. Compared to Andrew Benintendi, another rookie of the year candidate, Judge has a batting average 13 points higher, 32 more home runs, 24 more RBIs, and an OPS 273 points higher.
MVP is a much different discussion. Jose Altuve of the Houston Astros has been the frontrunner for this award since July (non-coincidentally right when Judge started slumping).
Altuve's primary statistic is batting average, a statistic in which he lead the league. Above all, Altuve was consistent. Altuve's batting average never fell below .298 and in July it jumped up to .485 (60 points higher than the highest single season total of all-time).
To see Judge in action, watch his Yankees play Altuve's Astros in the American League Championship Series on FOX/FS1.
About the Writer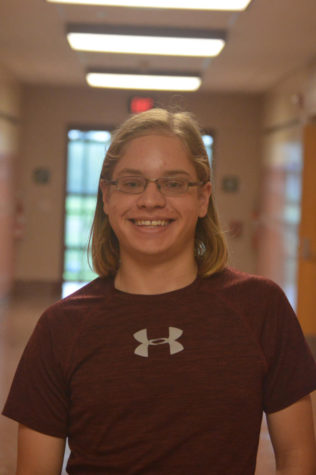 Sam Allery, Sports Editor
Sam Allery is the editor of the Sports section. He is a junior at Hershey High School and has been a part of the Broadcaster for two years. Sam also enjoys...