Kaia Gerber Taking Over Fashion World
A young, fresh face has emerged in the fashion world, giving the Hadids and Jenners a run for their money. Her name is Kaia Gerber.
Gerber, 16, is daughter to retired supermodel Cindy Crawford and model-turned businessman Rande Gerber. Although Crawford did not began modeling until 19, Kaia Gerber started modeling at age 10. Her first major job was working with Versace for their young age division.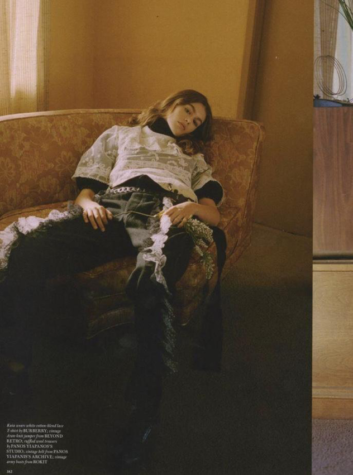 Gerber became more well known in the industry due to her name and her 1.8 million Instagram followers. Gerber was photographed for her first Vogue cover in March of 2016 with her mother. In an interview with People Magazine, Crawford shared her gratitude toward her daughter's success.
"Being on-set with my daughter watching her in front of the camera was a fantastic experience, I am so proud of her," said Crawford.
The immediate success following her Vogue cover allowed her to sign a modeling contract with IMG Models, one of the largest and most well known agencies in the world, in July of 2016. The contract with IMG further catapulted her career, giving her even more publicity and exposure. Gerber then landed her first ever solo Vogue cover on the September 2016 issue.
Gerber continued her streak of booking nationally recognized campaigns when she posed for the Marc Jacobs Daisy perfume ad campaign in March of 2017.
Her recent work with the many high fashion companies landed her major roles in New York Fashion Week (NYFW) in Fall of 2017. Gerber debuted at NYFW walking in the Calvin Klein show, which received major social media attention. Gerber also walked in Rihanna's Fenty Puma show, which allowed her to gain even more buzz. Additionally, according to Refinery29, Gerber's brother, Presley Gerber, was also pictured walking alongside her in Burberry's show.
Despite both great runway reviews, arguably Gerber's most talked about NYFW show was her opening in Alexander Wang's show. Gerber was the featured model even with the world's top models Kendall Jenner and Bella Hadid in the show. Critics from Teen Vogue applauded her quality walk at such a young age, and deemed her the new modeling star. The older Gerber gets, there is no doubt she will continue to take over the modeling world.