Terror in Texas: Hurricane Harvey
It is a storm unlike anything ever seen.
The United State's largest flood in years, known as Hurricane Harvey, made landfall Friday, August 25th. When the storm made landfall, the New York Times states it was a category four storm. With over 125 mile per hour winds, and 211,000 people expected to be without power on the Texas Gulf Coast, the storm blew through the state of Texas. Houston, the fourth largest city in the United States, is under water.
What set Harvey apart from the majority of other tropical storms was the rain. Parts of Harris County, Texas recorded 50 inches of rain. Additionally, parts of Houston set a record for the most amount of rain in a single storm out of anywhere in the United States with 51.88 inches. Jeffrey Linder, meteorologist for Harris County's Flood Control District said roughly thirty percent of the 1,800 miles of the county has been flooded.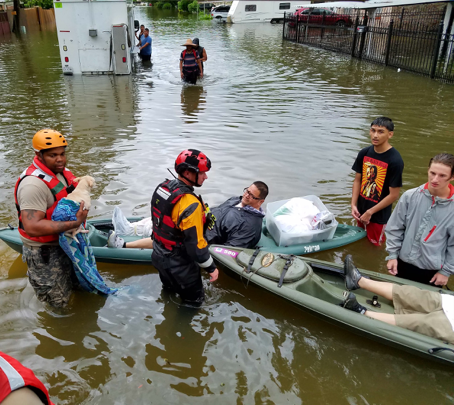 Despite dangerous water levels the mayor of Houston, Sylvester Turner, decided not to issue a mandatory evacuation. In an interview from CNN, Turner defended his reasoning not to evacuate the city despite backlash.
"You cannot put 6.5 million people on the road. If you think the situation right now is bad, you give an order to evacuate, you are creating a nightmare," said Turner.
With many Texas citizens stuck in their homes, different social media platforms have been used as a tool to get various infants, elderly people, and pets the evacuation help that they need. These platforms have helped gain awareness for people in need everywhere.
Not only has the extreme flooding placed Texas in a route to recovery for years but has also  affected many networks of pipelines, causing the United States Petrol prices to go up immensely. According to BBC, nearly a quarter of US oil refining capacity pipelines have been shut down. These pipelines deliver diesel, petrol, and aviation fuel all along the east coast.
The devastating storm has forced Texas into extensive debt to fix all of the damage from the flood waters. There are many different ways people are contributing to ensure that all victims are taken care of as far as recovery goes. The Hurricane Harvey Relief Fund and The United Way of Greater Houston are two organizations that support the immediate cleanup of communities recovering from the hurricane.
Additionally, those looking to help animals can visit The Houston Humane Society or The San Antonio Humane Society. Along with the Humane Societies helping any lost animals, The Houston Society for the Prevention of Cruelty to Animals set up areas for donations on their website.