Hershey Theatre Apollo Awards
Hang on for a minute...we're trying to find some more stories you might like.
Lights, costumes, props, sweat, and tears: five of the many items that are required for receiving a standing ovation.
For many years, the Hershey Theatre has hosted the Apollo Awards, an awards ceremony to honor high school performers from their plays and musicals. This year, Hershey High School was nominated for Best Musical, so the entire cast got to perform a number from this year's musical, "Urinetown." As well as Best Musical, senior Kodiak Thompson was nominated for Best Lead Actor in a musical and Best Lead Actor in a play, and senior Julia Rippon was nominated as Best Lead Actress in a musical. Many members of the production staff attended the awards ceremony.
The Apollo Awards have existed for the past nine years. Out of those years, HHS has been nominated for Best Musical six times, winning for their third time this past Sunday, May 21, 2017.  Not including Best Musical, HHS went home with four other awards: Thompson for Best Lead Actor in a musical, Rippon for Best Lead Actress in a musical, sophomore Julia Fan for the Spirit of Theater in plays, and senior Chris Donegan for the Spirit of Theater in musicals.
According to Lisa Balanda, one of the directors of the musical, the production staff would have been honored to be nominated even if HHS did not win.
"We are one of FIVE shows nominated out of 22 schools who had their musicals evaluated," said Balanda.
Balanda went on to explain the process the cast went through on Sunday, the day of the ceremony. The cast was at the theatre all day (from 12pm until the end of the show). Balanda said that the cast was more than prepared for their performance Sunday and that they always perform very well.
Thompson, a two time winner of the Apollo Award for Best Lead Actor in a musical, said that it was an honor to be nominated and to have won alongside the many other talented performers in his category. Thompson says that the first people to thank for his accomplishment are his parents because they are always so supportive.
Similar to Thompson, Rippon said that she was filled with joy and excitement when she found out she had been nominated for this category, let alone when she found out that she had won.
Rippon described the moment she found out as a complete shock.
"I was actually at my studio getting our annual dance pictures taken, when suddenly my mom came rushing up to me jumping and screaming until she finally told me the news," said Rippon.
When nominated for Best Lead Actor/Actress, nominees receive the opportunity to sing their "main" song from the musical they were a part of. Since both of the leads of "Urinetown" were nominated for Best Lead Actor/Actress, Thompson and Rippon sang their duet from the show. The duet was "Follow Your Heart." Thompson said that he was ecstatic to get to perform with his "leading lady," and Rippon thinks the same.
Thompson stated that he does theatre for the experience of meeting new people, creating meaningful art, and bringing the school community together in a positive way. "Receiving outside acknowledgement is not something that I focus or rely on, but it feels good to see the arts get the kind of attention and glory that sports receive in most communities," Thompson said.
About the Writer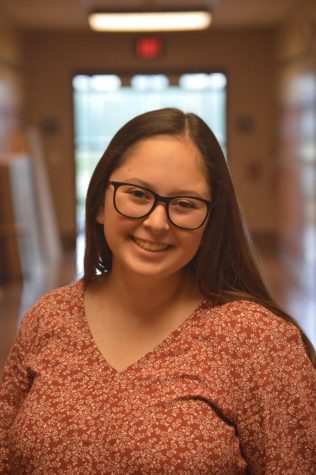 Tori Moss, Editor in Chief
Tori Moss is an editor in chief for the Broadcaster. She is a senior at HHS and has been a part of the Broadcaster for three years. Tori also enjoys musicals,...