Dior Makes Feminist Statement
Feminism is the trend of the season.
Maria Grazia Chiuri has made Dior history by becoming the first female artistic director in the brand's 70 year history. Her position began just in time for Spring Fashion Week, where Chiuri made a statement for the show's finale. A white T-Shirt with the words "we should all be feminists" was displayed with a blue tulle skirt and sneakers. The moment became history and was the most Instagrammed moment of the show.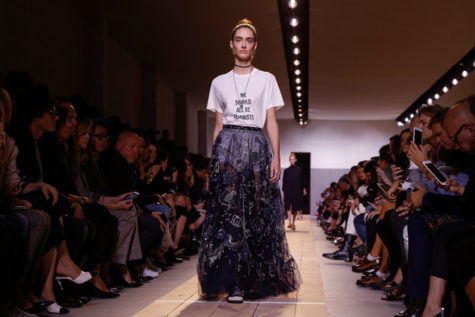 According to various reports from Vogue, Chiuri's decision to make feminism the statement of the show had a lot to do with her own views on the importance ofthe subject. Chiuri is also a mother of two kids, a son and a daughter. New York Times reports state that her children were a major part of her decision to take the job as artistic director.
"I believed in the fact that taking the Dior job gave me the ability to show the next generation that it had the same opportunities no matter what gender," said Chiuri in an interview with the New York Times.
Not only did Chiuri want to make a statement through her clothes, but also through the guests who attended. Nigerian writer Chimamanda Ngozi Adichie, a woman whose 2013 Ted Talk "We Should All Be Feminists" went viral,  and she was invited by Chiuri as the guest of honor.
Additionally, Chiuri's music choices for the show were chosen in order to display the feminist message. The statement song was Beyonce's song "Flawless" which featured words from Adichie's Ted Talk.
Statement tees similar to Chiuri's typically go to a charity or foundation. Designers such as Christian Siriano and Simkhai are known for donating their proceeds to various causes. Shortly following the show and the its buzz, Dior shared that they would follow in the other designers' footsteps. Portions of Dior's sales of the "We Should All Be Feminists" tees will be donated to Rihanna's nonprofit, The Clara Lionel Foundation, which fights injustice, inequality, and poverty to give access to better health and education.
Just days after the show, many celebrities stood behind Dior's statement. Celebrities such as Natalie Portman, Rihanna, Amanda Steele, Jennifer Lawrence, and many more are only a few of the world known women embracing their fashion for a cause. Their photos in various tabloids wearing the shirt have started a movement all over the country to spread the feminist message.
"I believe fashion should not impose itself on the person who wears it, but be used by them as a way to express themselves," said Chiuri to the New York Times.
The t-shirt can be bought on the Dior website, and in all Dior boutiques until May 15th. The shirt is set to be priced at 170 dollars.