Chanel Meets Space
Chanel's show was out of this world, literally.
Karl Lagerfeld, 87 year old creative director and head designer for Chanel, ended Paris Fashion Week with a special space twist. At the Grand Palais in Paris, Lagerfeld brought outer space down to the fashion capital of the world. A life sized mid launch spaceship was the hit of the show, and the clothes and world famous models made the show even more memorable.
Despite the once in a lifetime set, space conditions call for cold. Nonetheless, Lagerfeld's fashion incorporated the space chill and included metallic space blankets and Chanel tweeds cut into suits, shirts, trousers, and dresses, and they were worn with sparkly tights. Most looks also included a knit wraparound headband to keep the models' ears warm. While for warmth, the headbands also placed a spotlight on their sky high gravity defying hair.
Lagerfeld stocked the runway with world famous models as well. Kendall Jenner, Gigi Hadid, and Bella Hadid were among them.
Jenner walked in a wool black and white coat with frilly trim and was accessorized with a jeweled headband, glimmering tights, and boots. Gigi Hadid wore a houndstooth jumpsuit and glittering boots, gloves, and a leather headband. Bella Hadid wore arguably the most space inspired outfit, that many believed were two dresses in one. A form-fitting, long-sleeve sheath was layered beneath a sleeveless mini in the same material. Similar glimmering boots and tights were worn on Hadid that were also present on her sister and Jenner.
Besides the fashion famous women, more men than ever walked this Chanel show. These male models include Brad Kroenig, Baptiste Giabiconi, Lucky Blue Smith, and Ash Stymest.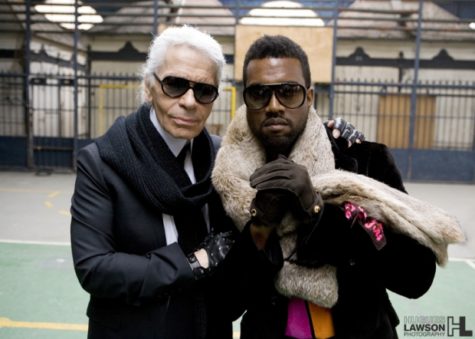 According to Highsbnobiety, Lagerfeld spent roughly six months creating the set and other elements of the show, and various reports from Vogue conclude that Lagerfeld wanted to pay tribute to the great space era.
Furthermore, Vogue reports concluded that Lagerfeld's specific inspiration was none other than Buzz Aldrin, the man on the moon. Aldrin has become more than just the first to step on the moon, he is very involved in all things fashion. Aldrin recently walked for Nick Graham during Men's Fashion Week in January.
Following the buzz of the show, Aldrin's review revealed his admiration for many of the models who walked. In addition, Aldrin added the spaceship was a statement touch but nothing too realistic.
"It looks realistic, but it doesn't look big enough to really get to orbit," said Aldrin.
Following Aldrin's review, Lagerfeld reached out to Aldrin to see if he would be interested in further space campaigns with Chanel.
"Chanel, I think it's a quality brand, but I did already do the 'Life on Mars' theme with Nick Graham for men's Fashion Week, so he got to me first," said Aldrin.