Trump's Executive Order: The Impact on Families and Refugees
A 4-month-old Iranian girl trying to come to the United States for life saving heart surgery was denied a visa.
An executive order signed by President Trump on January 27, 2017 temporarily blocked travelers from seven Muslim-majority countries from entering the U.S. The countries involved are Iran, Iraq, Libya, Somalia, Sudan, Syria and Yemen. Whether they have a visa, a green card, or even valid citizenship, many people have been detained in airports. The goal of Trump's administration was to check the flow of immigrants to help prevent terrorism, but many innocent civilians were affected in the process.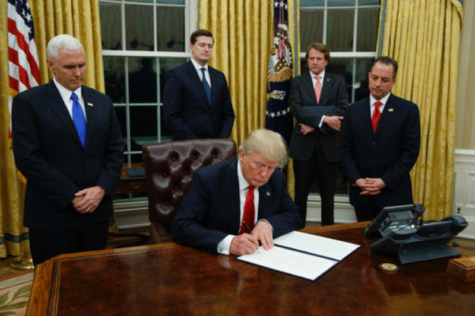 According to Vox, hundreds of people were detained in airports after the enactment of the order– even though they obtained valid visas. Another 350 people were prevented from entering the U.S. entirely.
CNN interviewed a family that experienced similar issues with entering the U.S. Fatemah Rashad, a four-month-year old Iranian girl, was diagnosed with structural abnormalities and two holes in her heart. Because a doctor in Iran told her family that she did not have enough resources in Iran to undergo a life-saving operation, the family turned to the U.S. for medical help.
According to CNN, the family was going to fly to Oregon, so Fatemeh could get the treatment she needs. They flew to Dubai, but when they arrived, they were rerouted back to Iran and told to reapply for a US visa in 90 days.
Attorneys involved in the case are working to get an emergency waiver, but it could be a long process, and the operation must be done immediately.
Another similar story, as reported by USA Today: an apartment was ready in Wisconsin for a Syrian family fleeing war and chaos in their home country. After spending four years in Egypt, this refugee family had gone through a rigorous process and was cleared to enter the U.S., said USA Today.
Yet after Trump's travel ban, it was found that they would not be arriving.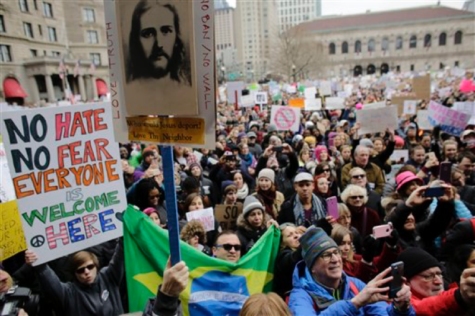 "It was a sad, sad afternoon," said apartment duplex owner Richard Manny. According to USA Today, he was willing to allow more people than normal to live there because they were refugees.
The Guardian wrote an article on how Trump's travel ban is affecting people around the world. A particular story they focused on is Fatemeh Shams, an Iranian professor at the University of Pennsylvania. In 2009, Shams' family was imprisoned and persecuted by the Islamic Republic [of Iran.]

"I pretty much lost everything," said Shams. "It was hard, nearly impossible, to stand up again and build everything from scratch. Finding new friends, building a new life. It took me seven years to get where I am today [in Pennsylvania]. Now, my whole life is up in the air again as a result of one signature."
Shams said her career is now at risk, just because she was born in Iran, a country on Trump's list.
"You are banned from seeing your loved ones. You are banned from travelling. You are banned from being a human being." said Shams.