Hershey High Boys Basketball Falls to Susquehanna in Nail-Biter
Sam Allery and Jack Goulet
January 27, 2017
Hershey boys basketball lost to Susquehanna 66-59 at home on Friday, January 13th.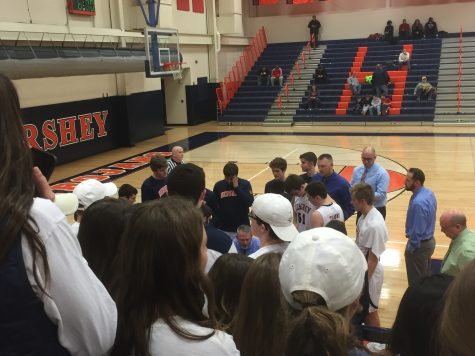 The Trojans were down two points going into the second quarter, but junior Sean Coller's foul shots put Hershey up 27-26 at the half.
One of Hershey's juniors, Jake Wilson, hit a go-ahead three pointer in the third quarter, making the score 36-33. Wilson received the ball at the arc, scoring another three-pointer.
It was a night of long distance shooting, as 45 of the game's points came from three point shots; nine from Susquehanna and six from Hershey.
Hershey committed a series of fouls in the fourth quarter to try to rebound Susquehanna's missed foul shots. The Trojans' attempts were unsuccessful, as the Indians made all of the free throws and sealed the deal on their victory.