Hershey Girls Basketball loses against Lower Dauphin
The Hershey Girls basketball team had a tough loss of 30-18 on Friday, December 16 against Lower Dauphin.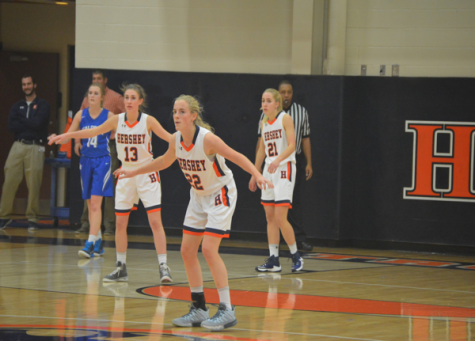 Hershey had a good start in the first period with junior Cassie Zugay, scoring 8 points for the team. The game continued with junior Maggie Miller and sophomore Kate Sinz each scoring two points.
During the second period, LD gained their momentum as they intercepted many passes and had many scoring opportunities.
The second period ended with a tied score of 13-13. Hershey had only scored two more points in the third period while LD had a total of 24.
Zugay scored another three in the last period, however, the Hershey team could not gain enough points to win the game, ending with a 30-18 loss.
Hershey Girls basketball plays again on Monday December 19, 2016 at Mechanicsburg Area Senior High school.