Hershey Ice Hockey Falls Short Against Cumberland Valley
The Hershey ice hockey team faced their first loss of the season against Cumberland Valley 7-4 on Wednesday,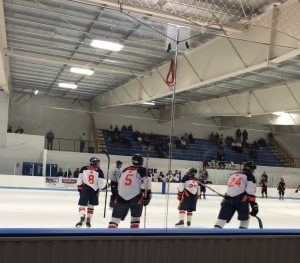 December 7, 2016 at Klick Lewis Arena.
Hershey started off the game strong with Hershey High School freshman Karsyn Kehler scoring the first goal of the game and HHS junior Sammy Steele scoring a goal midway through the first period, leaving CV to only score one.
The second period was a battle of the puck, leaving CV to gain control with a lead of 5-4 over Hershey. Steele scored two more goals for the Trojans.
CV remained in control of the puck during the third period, scoring two more goals.
"We had a couple guys out and most weren't playing at 100%, but that's not an excuse for our performance. We need to pick the energy up and learn from tonight in order to keep moving forward." said HHS senior Joey Mishler.
The Trojans' next game will take place on Wednesday, December 14, 2016 at Twin Ponds East against Central Dauphin at 7:45pm.