Top Christmas Movies for the Holiday Season
A time of joy, giving, snow, and lots and lots of movies.
With Christmas time upon us, many are beginning to pull out the Christmas movies to spread Christmas cheer. Families coming together to spend the holidays means one thing: movies. Here, according to the Broadcaster staff, are the top five family friendly movies for the holiday season.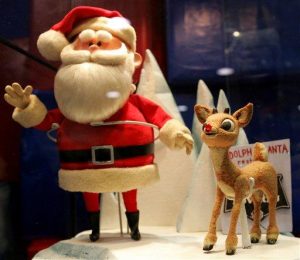 First, a movie that is fun for everyone is Elf, a Warner Brother's film starring WIll Ferrell. Elf is a fun, PG family friendly movie about Buddy the Elf (Will Ferrell) who, after sneaking into Santa's sack, lives in the North Pole for most of his life. When discovering he is not a real elf, Buddy travels to New York City to meet his dad, where he develops a significant love interest, learns how to be a normal person again, and to get people back into the Christmas spirit. (Elf Theatrical Trailer)
The humor in this film stands out highest of all, and creates a warm, loving, and happy environment during the film. The modern twist of typical Christmas tales makes the movie more relatable for all. Despite some movie critics argument with the ending being too feel-good, an 84% rating from Rotten Tomatoes says otherwise. The fun filled movie is fun for the whole family to help kick off the holiday season.
A second film that captures the hearts of families is National Lampoon's Christmas Vacation. Being released in 1989 by Warner Brothers Studios as a PG-13 movie, Christmas Vacation has notable stars such as Chevy Chase, Beverly Angelo, and Juliette Lewis. The movie features Chevy Chase as Clark Griswold, father in the Griswold family, working hard to have the best family Christmas ever. With many relatives, Walter has many challenges along the way to make the holidays memorable for all. (Christmas Vacation Official Trailer)
Despite some inappropriate lines and a 64% rating from rotten tomatoes, the film is jam-packed with humor from beginning to end. 84 percent of audiences surveyed really enjoyed the movie. Overall, while too mature for some, Christmas Vacation is a movie worth watching this Christmas.
Rudolph-arguably one of the most well known children Christmas stories of all time, is better than ever on the movie screen. Released in 1964 by Artisan Entertainment, introduces Rudolph the Red-Rosed Reindeer. Rudolph teams up with Hermey, an elf who dreams of being a dentist, and run into the Abominable Snowman and finds a whole island of misfit toys. Rudolph wants to get the toys back to Santa, but on Christmas Eve Santa is fogged in. The question many have: will Rudolph save Christmas?
While some critics think it lacks modern charm, Rudolph brings back the classic aspect of Christmas. A 92 percent rating by Rotten Tomatoes seals the verdict. Rudolph is another picture perfect holiday movie.
Next on the list is How the Grinch Stole Christmas, which is yet another classic Christmas movie based off of Dr. Seuss's iconic book. Released in 1992 and starring Walter Matthau, the holiday film is focused on Christmas's worst nightmare, the Grinch. The grinch is sick and tired of the Whos of Whoville celebrating Christmas, and plans to steal it from them. (How the Grinch Stole Christmas Official Trailer)
A 100% from Rotten Tomatoes shows that How the Grinch Stole Christmas is a great family friendly movie for the holiday season.
Last but not least, It's a Wonderful Life tops off the list. This PG movie starring James Stewart, Donna Reed, and Lionel Barrymore, this movie is one that, at first, does not show the holiday spirit. The film begins with George Bailey (James Stewart) having a money issue after losing eight thousand dollars. Thinking of his wife and kids and that they would be able to live without him allows him to begin to contemplate suicide. Prayers from his loved ones sends an angel named Clarence to show him what life would be like if he hadn't been born.
Rotten Tomatoe critics reiterate what many movie watchers agreed with. It's a Wonderful Life is a heartfelt, inspiring, and full of emotion from beginning to end to captivate the viewer. Arguably one of the best Christmas movies of all time, It's a Wonderful Life is yet another picture perfect movie to spread Christmas cheer. (It's a Wonderful Life Official Trailer)
The holidays are one of the most anticipated times of the year. With twinkling lights, christmas cookies, movies, movies, and more movies. These five movies are undeniably perfect to curl up to and watch this holiday season.